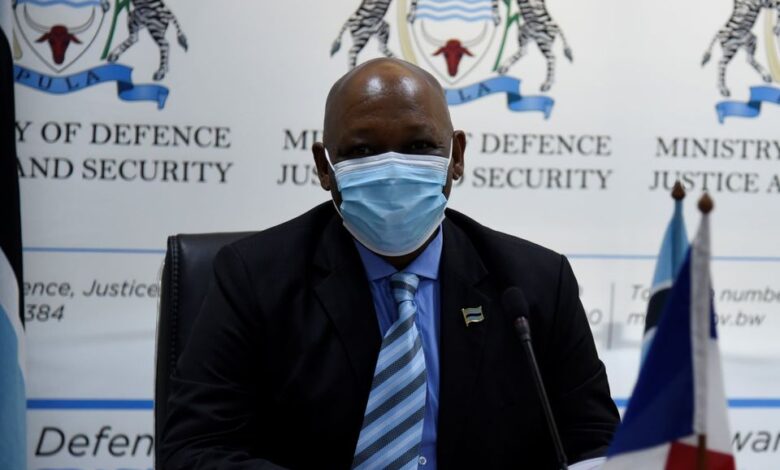 Honourable Mr. Thomas Kagiso Mmusi, Minister of Defence, Justice and Security, met with a delegation of MISA SADC Directors. The delegation is in Botswana for a three day working visit from the 2nd to 5th March 2022. The delegation came for discussion on the Criminal Procedure and Evidence Bill and issues of Media security among others. The delegation was led by Mr. Tefo Phatshwane, the National Director.
During the meeting, Honourable Mmusi stated that he has long awaited the meeting. He assured the delegation that government did listen to the people`s concerns and incorporated them in the Bill. Minister Mmusi assured the delegation that there are safeguards laid forth in the Bill to ensure protection of the citizenry and the general population through oversight structures and stiff penalties for abuse of offices.
He mentioned that the High Court will now be a mandatory approval authority for all requests to carry out intrusive investigations, undercover operations as well as assumed identities without exception.
He further noted that Warrants will be operation specific and will only be for a limited time period as some safeguards against abuse.
The second oversight structure Honourable Mmusi mentioned was the Controlled Investigations Coordination Committee. He noted that the function of the committee will be to protect the interests of interception subjects, receive and hear the complaints in respect of the use of warrants.
On the issue of stiff penalties, the Minister stated that an Investigating Officer who abuses his powers by intentionally, knowingly or recklessly acquire evidence of, or uses, an assumed identity covered by his or her authority and knows that, or is reckless as to whether, the acquisition or use is not in accordance with his or her authority or in the course of duty commits an offence and is liable to a term of life imprisonment for life.
The delegation was comprised of SADC Regional Directors from Zambia, Mozambique, Zimbabwe and Tanzania amongst others.