News
𝐓𝐇𝐄 𝐈𝐍𝐀𝐔𝐆𝐔𝐑𝐀𝐋 𝐒𝐓𝐀𝐓𝐄 𝐎𝐅 𝐓𝐇𝐄 𝐂𝐇𝐈𝐋𝐃𝐑𝐄𝐍 𝐀𝐃𝐃𝐑𝐄𝐒𝐒 𝐁𝐘 𝐂𝐇𝐀𝐈𝐑𝐏𝐄𝐑𝐒𝐎𝐍 𝐎𝐅 𝐓𝐇𝐄 𝐍𝐀𝐓𝐈𝐎𝐍𝐀𝐋 𝐂𝐇𝐈𝐋𝐃𝐑𝐄𝐍'𝐒 𝐂𝐎𝐍𝐒𝐔𝐋𝐓𝐀𝐓𝐈𝐕𝐄 𝐅𝐎𝐑𝐔𝐌, 𝐌𝐬. 𝐔𝐍𝐀𝐋𝐔𝐃𝐎 𝐌𝐀𝐒𝐄𝐆𝐎 𝐈𝐒𝐀𝐀𝐂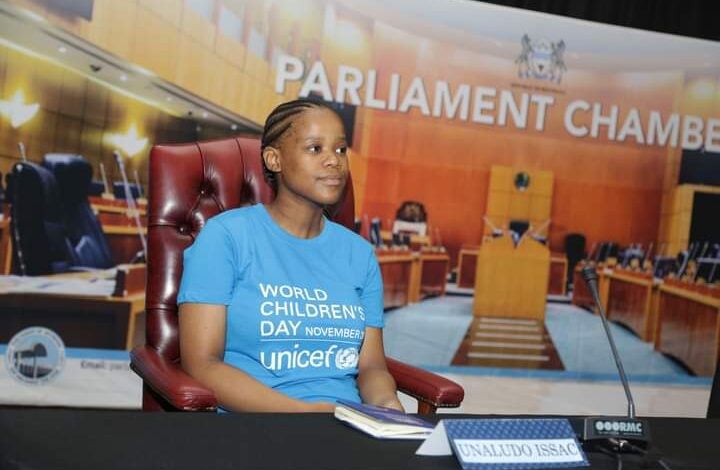 𝟏𝟏𝐓𝐇 𝐍𝐎𝐕𝐄𝐌𝐁𝐄𝐑 𝟐𝟎𝟐𝟑 𝐀𝐓 𝐆𝐈𝐂𝐂, 𝐆𝐚𝐛𝐨𝐫𝐨𝐧𝐞
SALUTATIONS:
1.0 Madam Speaker, Today marks a very special milestone in my journey as the Chairperson of the National Children's Consultative Forum as we commemmorate the 2023 World Children's Day with Botswana's first ever Children's Mock Parliament.
2.0 I stand here to present another "first ever" State of the Children Address, an opportunity for us to share our joys and pains with our leaders and the nation.
3.0 This comes a few days after His Excellency, President Dr. Mokgweetsi Eric Keabetswe Masisi eloquently delivered the State of the Nation Address (SONA) on the 6th November 2023. I hope my delivery will add to the ongoing discussions of the SONA
4.0 Madam Speaker, We are comforted by the fact that His Excellency dedicated Section B of his speech to making a commitment of nurturing and protecting the children of Botswana, thank you.
5.0 The 2023 theme for World Children's Day is "A Better Future for Every Child", a theme loaded with opportunities for all of us to contribute to preserving the rights of "ALL" children.
6.0 As children of Botswana, we acknowledge the efforts made by our Parents, Governement, Development Partners, Private Sector, Civil Society Organisations and other key players in ensuring our protection and care.
7.0 Laws like the Children's Act of 2009 which specifically ensures that the rights of children are preserved, gives us hope that we are important.
8.0 Madam Speaker, This law, which is based on four guiding principles of Best Interest of the Child, Child Development and Survival, Non-Discrimination and Child Participation needs to be fully implemented and improved to protect children in totality
9.0 We notice big efforts like opening of Child Friendly Police Centres in some parts of Botswana as well introduction of a Virtual Children's Court in Francistown, these are major achievements that need to be increased.
10.0 Campaigns against child exploitation and abuse like Eseng mo Ngwaneng give us hope.
11.0 Madam Speaker, As children we also observe the ongoing digital transformation through internet connection at schools, Dikgotla and clinics across Botswana, it shows we are moving with the times as a country which excites us as children
12.0 New developments like the introduction of computers in schools, answers our pleas for improved learning environments in line with the Government's vision of a "knowledge based economy".
13.0 Madam Speaker, Introduction of mother tongues in schools, breakfast meal, receptions classes are signs that every child can be reached, as the theme says "For Every Child, Every Right".
14.0 We also notice the Government's investment across the country in the construction of roads, in the agricultural sector for food security, building of schools, and other important developments
15.0 As children we are also grateful for the opportunities like this one where we are given freedom to air our views; to give us a chance to contribute to the Constitutional Review Process, participated in the Child Justice Symposium, Mental Health and Psychosocial Support Forums, etc.
16.0 Honourable Members, We've also been given an opportunity to represent our nation internationally through the Commemoration of the Sub Regional Commemoration of the World Children's Day as well as at the Children's General Assembly Summit in Billund, Denmark.
17.0 These efforts by all stakeholders have increased child participation on issues that affect our welfare.
18.0 Though there are evident efforts to care and protect us as rights bearers, a lot more can still be done as far as our homes, communities, schools, laws, sports, leisure and health are concerned.
19.0 Madam Speaker, We are not safe in our homes; children are abused at home by families as well as community members, COVID-19 was a clear example of that:
•Gender Based Violence has claimed lives of our parents;
•Some children have lost their lives too;
•Parents are too busy for us;
•We are raised by aunties, money and gadgets;
•Child neglect has become a disease;
•parents abuse drugs and substances in front of us.
20.0 Madam Speaker, Our communities are not safe;
•children are not free to play outside for fear of being abused; trafficked or being
drawn to drugs;
•we have no play grounds in our communities;
•some of our cultural norms and practices are harmful to us;
21.0 Madam Speaker, Our schools are not safe for us or even our teachers; there is a
lot of violence in schools;
•Children are violent and there is a lot of indiscipline;
•Teachers use excessive corporal punishment;
•Schools are full of drugs;
•Parents are not involved in our education;
•Some schools are dilapidated;
•We have no textbooks most of the time;
•Classrooms are not enough hence the students use labs and the outdoors as a
substitute for classrooms
•Many children fail the current curriculum;
•Children drop out of school due to pregnancy;
•Programming for children with learning and intellectual disabilities are not enough;
•Introduce sign language in the school curriculum
•We need social workers and medical practitioners e.g nurses
•We need extracurricular activities in schools; sports, arts and others.
22.0 Honourable Members, Though we have good laws, the Justice System is far from
achieving the principle of "Best Interests of the Child";
• There is shortage of social workers, police and magistrates, prosecutors, judges
and probation officers;
• cases take long to process – some children are defiled at a young age only to be reminded of the trauma many years later;
• courts are not child friendly as children have to face the perpetrator;
•Reporting to the Police is still intimidating, even in the new Child Friendly Centre's due to their position in a Police Station ;
•Some parents are not protecting their children enough,
•Children are children even when in conflict with the law.
23.0 Madam Speaker, Children have little or no mental health and psychosocial support services even though they are faced with so many challenges:
•Many children are experiencing the aftermaths of their parents' marital issues
•Children experience mental health and psychosocial problems
•There is a low sensitization of mental health issues
•There is a Need for more rehabilitation centres for children
24.0 Sports, leisure and arts are important to us but almost non-existent especially for us children;
•Children are talented but have no outlets to express themselves
•Children need protection from elders in the sports and arts environment
25.0 Madam Speaker, children in hard to reach areas bears the consequences of lack of developments in their areas:
•Children have to live in hostels that are not habitable and away from their parents
•Children miss schools because their parents work in farms or
•Children live alone while their parents work in game parks and other far places.
26.0 Madam Speaker, lives of children matter and if we are indeed the future, we need everyone to pay attention to our needs and take action against abuses and injustices to children.
27.0 Just as the President launched the MINDSET CHANGE CAMPAIGN, A RE CHENCHENG, let us all put the rights and welfare of children first
28.0 I thank you for your audience, ke a leboga.