News
𝐓𝐇𝐄 𝐍𝐀𝐓𝐈𝐎𝐍𝐀𝐋 𝐂𝐎𝐌𝐌𝐈𝐓𝐌𝐄𝐍𝐓 𝐅𝐎𝐑 𝐀𝐃𝐎𝐋𝐄𝐒𝐂𝐄𝐍𝐓 𝐀𝐍𝐃 𝐘𝐎𝐔𝐍𝐆 𝐏𝐄𝐎𝐏𝐋𝐄'𝐒 𝐖𝐄𝐋𝐋𝐁𝐄𝐈𝐍𝐆 𝐈𝐍 𝐁𝐎𝐓𝐒𝐖𝐀𝐍𝐀 𝐋𝐀𝐔𝐍𝐂𝐇𝐄𝐃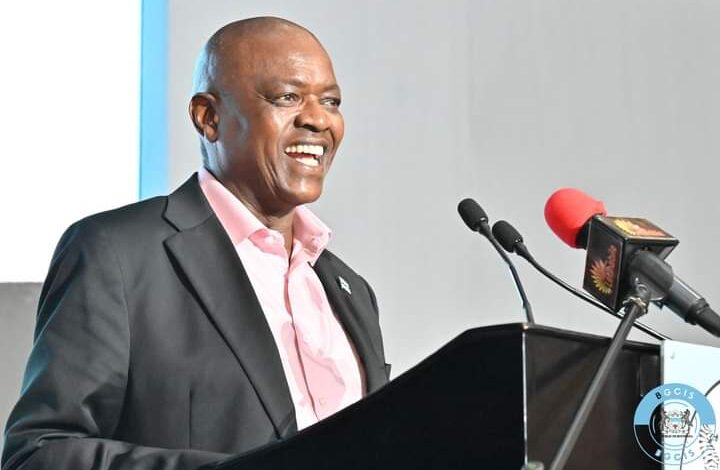 His Excellency, Dr Mokgweetsi Eric Keabetswe Masisi, President of Botswana, today officially launched the 'National Commitment for Adolescent and young people's wellbeing in Botswana' in Gaborone.
The campaign is the world's biggest ever gathering for the health and wellbeing of adolescents and young people through the establishment of Sustainable Development goals.
President Masisi expounded that this commitment resonates with the goals of the Global Forum for Adolescents from around the world coming together to share experiences, ideas and aspirations. He added that it aligns with the United Nations Secretary-General's call to Member State to Craft forward-looking national commitments to fast track implementation of the 2030 Agenda and its underlying Sustainable Development Goals.
In his remarks, the Minister for State President Hon Kabo Morwaeng said that this was a wholistic approach in addressing matters affecting young people in Botswana who are a collection close to His Excellency the President's heart. He stated that the campaign aims to emplify the voice of young people and achieving sustainable development around issues of unemployment, heath amongst others as paramount.
For her part, the African youth ambassador, from the FIA Foundation Ms Olivia Nalwadda said that 30% of Botswana's population are youth thus making this campaign of great significance in Botswana as it gathers youth around the world to give them a voice and platform to participate in meaningful national development as future drivers of the economy. She reiterated that Botswana is one of the first countries to launch a national commitment for adolescents and young people as a commitment to the future and welfare of young segment of the population.
In closing, the Acting UN resident Coordinator and WHO representative Dr Josephine Nyamboze praised His Excellency the President for support of this initiative saying the act cements his Excellency and the First Lady's commitment to aligning national priorities with sustainable Development Goal to ensure Botswana capitalize in investment in the upcoming generation.