News
𝗖𝗛𝗨𝗥𝗖𝗛𝗘𝗦 𝗖𝗔𝗟𝗟𝗘𝗗 𝗧𝗢 𝗧𝗔𝗟𝗞 𝗔𝗕𝗢𝗨𝗧 𝗚𝗕𝗩 𝗜𝗦𝗦𝗨𝗘𝗦𝗖𝗛𝗨𝗥𝗖𝗛𝗘𝗦 𝗖𝗔𝗟𝗟𝗘𝗗 𝗧𝗢 𝗧𝗔𝗟𝗞 𝗔𝗕𝗢𝗨𝗧 𝗚𝗕𝗩 𝗜𝗦𝗦𝗨𝗘𝗦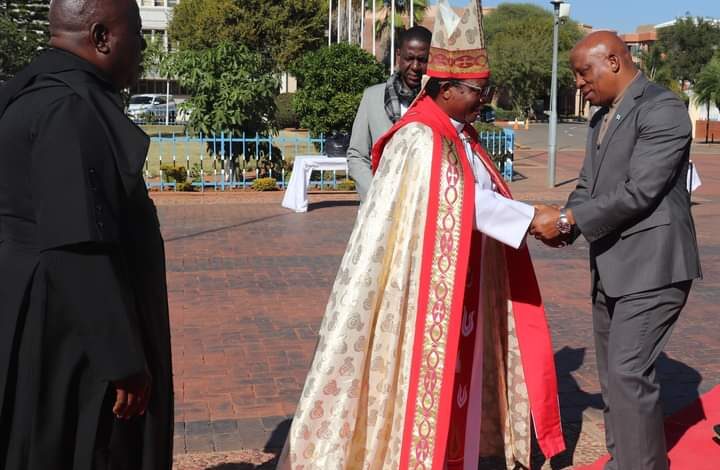 Minister for State President Hon Kabo Morwaeng has called on the church to actively deliberate on issues of Gender Based Violence (GVB) as such cases continue to be on the rise in Botswana.
Minister Morwaeng made the remarks at the ecumenical service of prayer against gender based violence on women and children that was held this morning at National Assembly grounds organized by Botswana Council of churches (BCC).
He said time has come for churches to organize Christian Men's Conference and men fellowships, where deliberation could be made on how best society raise and mould boys into responsible men, loving, caring and supportive to their sisters, mothers and all women around them.
He said government remains ready to strongly support such initiatives for the building of better Botswana. Minister Morwaeng implored Botswana Council of Churches to ensure that different denominations recurrently convene to pray and help believers to renew and seek restoration of the moral fabric bequeathed upon the nation by God.
Meanwhile Deputy Speaker of the National Assembly Hon Pono Moatlhodi called on the churches to keep praying for Members of the National Assembly, most precisely for cordial relations and exemplary character in the diversity of their views.
With the service held under the theme: 𝑯𝒆𝒂𝒍𝒊𝒏𝒈; 𝑭𝒐𝒓𝒈𝒊𝒗𝒆𝒏𝒆𝒔𝒔; 𝒂𝒏𝒅 𝑹𝒆𝒄𝒐𝒏𝒄𝒊𝒍𝒊𝒂𝒕𝒊𝒐𝒏 Botswana Council of Churches Treasurer Rev Mmachakga Moruakgomo said the prayer service that concluded their week long activities was to show solidarity and support for victims and survivors of Gender Based Violence.