News
𝗛𝗶𝘀 𝗘𝘅𝗰𝗲𝗹𝗹𝗲𝗻𝗰𝘆 𝗗𝗿. 𝗠𝗼𝗸𝗴𝘄𝗲𝗲𝘁𝘀𝗶 𝗘.𝗞 𝗠𝗮𝘀𝗶𝘀𝗶 𝗶𝘀 𝘁𝗵𝗲 𝗖𝗵𝗮𝗶𝗿 𝗳𝗼𝗿 𝘁𝗵𝗲 𝗖𝗵𝗮𝗻𝗴𝗲𝗠𝗮𝗸𝗲𝗿𝘀 𝗔𝘄𝗮𝗿𝗱 𝗣𝗿𝗼𝗴𝗿𝗮𝗺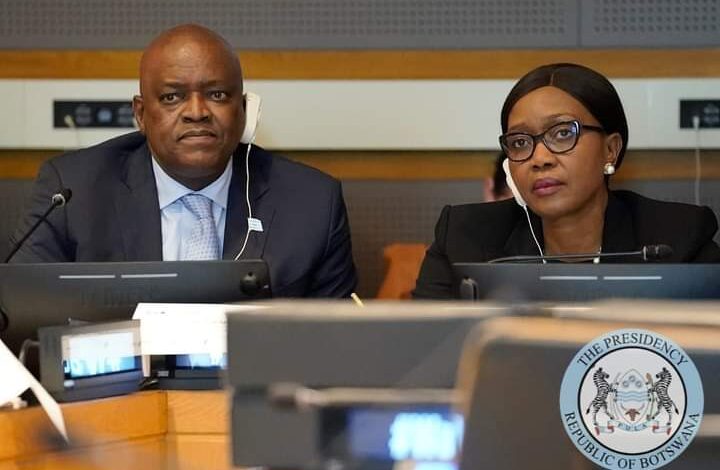 His Excellency Dr. Mokgweetsi E.K Masisi
appointed as the United Nations Chair for the Changemakers Award Program.
ChangeMakers Award Program is a new initiative that seeks to highlight experiences in the way water decision have built climate Resilience, and awards go to those who use innovation and technology to meet Sustainable Development Goals 6 target.
He is the first sitting President of the Republic of Botswana, to take the Chairmanship of the Changemakers Awards program.
His Excellency will be supported by the leading Korean Water Resources Corporation (KWATO), which is globally known for the development of the smart water management technologies.
Botswana is already working with KWATO, for the improvement of it's water resources.
In his acceptance, he encouraged fellow Heads of State to prioritize investment in water and sanitation services which will assist in meeting the Sustainable Development Goals 6 targets, on water and sanitation by 2030.
The launch was taking place on the sidelines of the United Nations 2023 Water Conference, currently underway in New York.
ResetBW
BWPresidency
AdvancingTogether
ImplementingOurChangeMandate