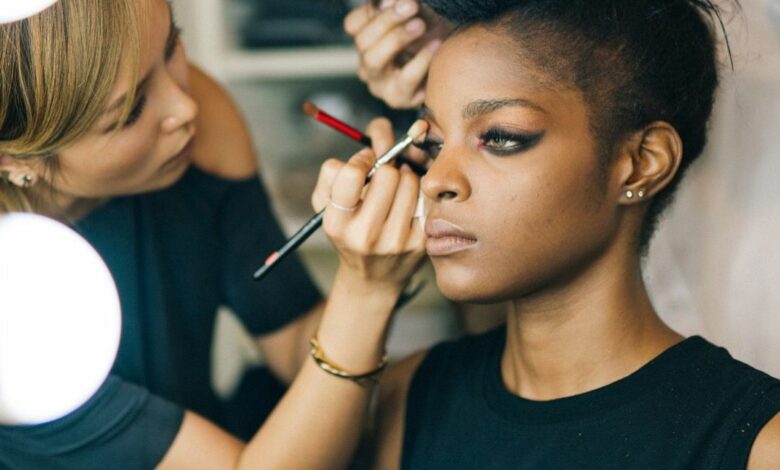 Professional South African makeup artist Sian Bianca Moss, distributor of Viva La Diva within South Africa, is spilling all of her favorite make-up hacks that will make your daily routine easier. From how to get fuller-looking eyebrows to tricks using lipstick to create volume to your lips, we're counting down her 5 top makeup hacks for your lips, face, brows, and eyes using Viva La Diva Absolutely Fabulous makeup.  
MAKEUP HACK #1: Fill In Your Eyebrows And Take Over The World
Start filling your eyebrow with the pencil using short, gentle strokes. Go along with the natural shape of your brows and do not try to create an entirely different shape. Pencil strokes alone can look patchy, so use powder over the pencil to intensify the colour and thickness of the brow. Finish your look using the brow wax in the Perfect Brows Pallette to set eyebrow hair in place!
MAKEUP HACK #2: Don't Skip The Setting Spray, Darling!
We all know the benefit of setting spray, applied over your makeup to keep everything in place. Did you know you can spray your foundation brush or beauty blender with setting spray before applying your foundation? This will create a more blended and natural complexion, while setting your foundation in place.

MAKEUP HACK #3: Eyebrow Liner Doubles Up As Liquid Eyeliner
Viva La Diva Eyebrow fine liner is a must-have for a structured brow look. The super-thin tip is perfect for defining each hair. Not only does it sculpt your brows into perfect arches, that stay put, it also gives brows a tint of colour too- for that maximum-defined look. Even better, use the brow fine liner as a liquid eyeliner. Easy to use and shape to your desired look.
MAKEUP HACK #4: Use Two Shades Of Lipstick To Create Full Diva Lips
Create the illusion of luscious fuller lips by using a darker shade over the edge of the lips. Use a lighter shade of a similar colour and apply to the center of the lips to create dimension.
Use lipgloss and apply only in the centre of the lips to create volume and moisture.

MAKEUP HACK #5: Apply Brusher Like A Professional
Blush, makeup's unsung hero, instantly renders you less tired looking and more polished. Apply cream blusher to the apples of your cheek, smile to apply and blend it out. Use enough product as you need the colour to stand out and not blend in. Use powder blusher over, to set blusher in place. Always use cream products underneath powder to set and intensify colour. The same applies to highlighters and bronzer.