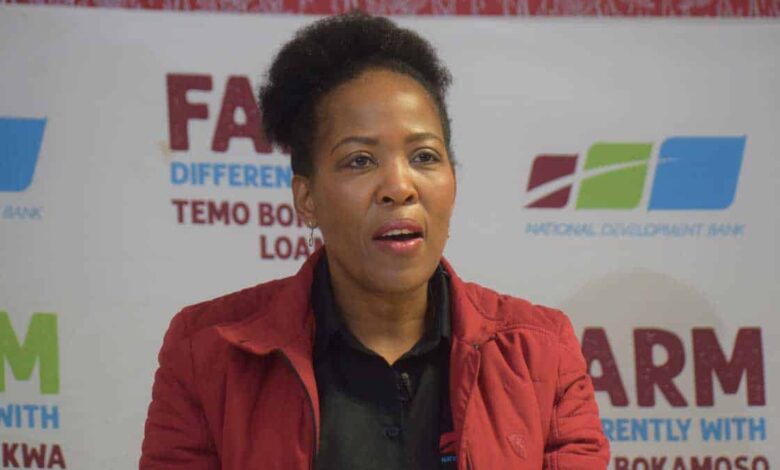 Export Credit Insurance & Guarantee Company Botswana (BECI) has appointed Ms. Lorato Charity Morapedi as a new chairperson.
Morapedi has been described as a well rounded inspirational and transfomational leader with proven record within the commercial banking and development finance space. She has also been praised for having transformed, grown businesses and inspired teams to successfully achieve business objectives and manage change. As a Chief Executive Officer (CEO) of National Development Bank, she has extensive experience in financial services (banking, development finance including risk managenment) across different sectors of the economy including Agriculture, Retail, Services and Manufacturing.
"She is currently the Chief Executive Officer of National Development Bank providing strategic and transformational leadership to the Bank towards Sustainability and an agricultural development institution supporting Government's national priorities of food security, employment creation and SME growth
Her other assignments involve being Chairperson of Advisory Board, Youth Alliance for Leadership & Development in Africa (YALDA)- Botswana chapter, chairperson of Council for ABM University College. Chairperson for Botswana Agricultural Science Professionals Association (BSPA). and a member of the SADC Development Finance Institutes Sub-Committee. She has also served in several boards including being the Chairperson of Botswana Institute of Bankers Council served amongst others.
Morapedi was also recognised as part of the 2019 Top 100 women CEOS in Africa nominations by Reset Global People in partnership with Pulse and Advance Media,based on her accomplishments as a leader and inspiration on the next generation of women in Africa and across the world" the board of directors aserted.
Founded in 1996, BECI (Export Credit Insurance and Guarantee Company Botswana) is the only credit insurer in Botswana, and is a private company – wholly owned by Botswana Development Corporation Limited (BDCL).
BECI's primary function is to develop and equip businesses with Trade Credit Insurance policies to protect them from the danger of non-payment by credit customers. In addition, the company now offers a selection of business growth tools, such as Construction Bonds and Guarantees.