News
BUSINESS SECTOR URGED TO MAKE HOME OWNERSHIP AFFORDABLE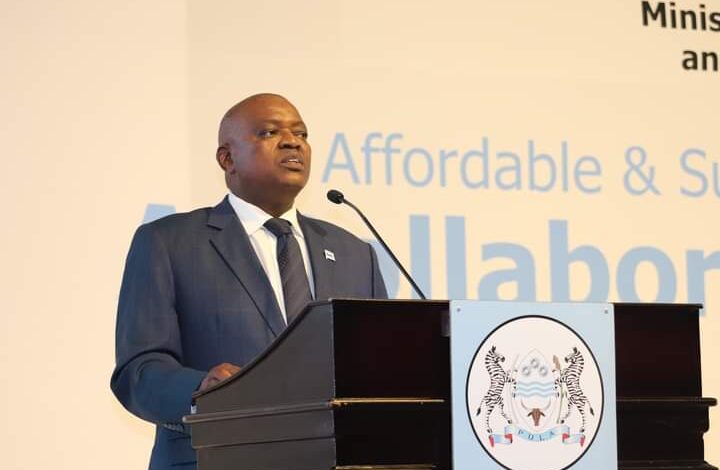 His Excellency, President Mokgweetsi Masisi urged the financial and commercial sectors to come up with systems, products and services that promote affordable home ownership as a basic human need.
Giving a keynote address at the official opening of the Housing Pitso this morning, Dr Masisi said Home ownership in Botswana is one such critical issue that requires intense and broad-based dialogue.
He appealed to the business community not to be motivated by profit alone, but exercise impactful social responsibility to complement Government's efforts of creating a just society in line with the national vision.
The Housing Pitso, held under the theme Affordable and Sustainable Housing for All: Collaborative Approach With Private Sector will engage stakeholders and role players to address emerging challenges and opportunities in the housing sector.
President Masisi said the Housing Pitso is in line with the drive for national mindset change, seeking new and smarter ways of implementing projects that have high impact in transforming people's lives, projects that are appropriately targeted for economic inclusion of citizens and are delivered on time and within budget.
Dr Masisi noted that the purpose of the Pitso is to find ways to utilise capacity in the Private Sector to provide solutions to housing shortage.
"For the working class, we desire to have an economic environment where there is ease of buying a house more or less like the process of buying a vehicle. We need to promote investment in housing because a house is an asset whose value is bound to appreciate over time whilst the values for other commodities, like motor vehicles, depreciate with time." He said.
He said Government is to play a facilitative role to ensure that the environment is favourable to housing development and highlighted that it is befitting that the Housing Pitso be held in collaboration with the private sector.
"The private sector is a crucial partner without which the goal of providing adequate housing to Batswana cannot be achieved. The development of housing estates countrywide attests to the important role the business community plays." He said
Dr Masisi emphasised the need to adhere to environmental sustainability in housing delivery saying that in planning, providing infrastructure, allocating land, make designs and constructing housing, it is important to be mindful of the threat of climate change.
President Masisi commended the Ministry of Transport and Public Works for hosting the forum adding that such forum create a much needed platform for dialogue on the delivery of affordable and sustainable housing.
He urged all participants to take advantage of this opportunity to develop networks and form long lasting partnerships.