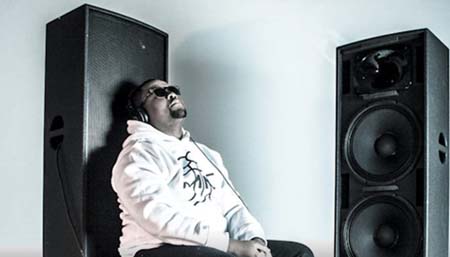 Chub is Motswana rapper, signed to a label by the name Markedmen Records, raised by a single mother and my grandparents, both at different times in my life, and during both eras I was deeply in love with Hiphop music.
What inspired the name Chub Heightz?
The 1st part of the name came about as a joke. Because I'm a chubby guy my friends were mocking me because of my weight. The second part of the name I made up myself to give my artist name a more title feel. And that is how I came to be called Chub Heightz.
What drew you to hip hop music?
I will admit at first is was the rebellious nature and the dress code of what I saw on Tv. Hiphop music was quite political and defiant back in the days. There was a lot of cursing, that my grandparents and mother did not like. This is why I was banned from listening to it. But the harder they tried to keep me from it the more curious I became about it. This is when I started learning and taking time to listen to this hiphop music and what its all about. This was eventually when I realised how similar some of these rappers' lives are to ours here in Africa.
What were some of the challenges you faced before blowing up?
Well its funny because really no matter how popular I become I still feel I can do more, so I still kinda feel like I havnt "Blown up" yet. But I will say some of my challenges before now were getting people to believe in me, especially my family. My friends had been fans of me for a while but my mother and grandparents just couldn't believe I rapped.
I also found it extremely hard to find a label of like-minded individuals when I first got onto the scene.
When did you get your first break?
Whenever I talk about big breaks I have so many things I think about. The first of which is the time I was chosen as one of seven upcoming hiphop artists to joint forces with three already established hiphop artists and the American Embassy to embark on a nation wide "Hiphop Against Aids and its Drivers" campaign. This tour was used as an outreach programme to help spread the message of awareness and help combat the underlying social ills that propel the deadly scurge though our communities and societies.
One of my other big breaks was when I was fortunate enough to collaborate with well known Hiphop artists and activist Nigerian hiphop artist Modenine. I had been a fan of Modenine since I was in Junior Secondary school, then through a mutual producer friend by the name Mark "Alias" Sunners I got to do a track with him called "RhymeFest". The track went to feature on his mixtape "Pay at-10-shun" . And to my surprise I was the only feature artist on the mixtape. We've been close ever since.
My other big break was the time I got the chance to put a track on a mixtape done by critically acclaimed South african producer Beat Oven. He's known for never working with "below average" artists, so I tried my luck and reached out to him to let me contend for a space on his mixtape. He was pleased with my submission and put it on his mixtape, "Straight from The Oven Vol.6"
I'm very appreciative of the love iv gotten everywhere, so if I had to mention them all we'd be here all day.
Tell us your new release Necessary Noise?
Necessary Noise is my debut album. Its a 17 track project. Its my 3rd musical project. The 1st of which was a mixtape titled "3rd Letter Music" which I released in 26 November 2010. Then the 2nd project was a 9 track e.p that I released in 29 January 2012. Then I eventually dropped Necessary Noise on the 19 October 2012. Necessary Noise is really a journey of my life from when I first fell in love with Hiphop music till now. Its filled lessons about Life Love and God. Its a very truthful album. Some think its a bit too honest, but that's all I know how to be, honest. But above all its great music.
What inspired the project?( Necessary Noise?)
 My life, Love for music, Love for God, my environment and the lives of people around me.  That project will change your life, just listen to it.
What do you think makes you stand out as an artist?
My cheeks. Lol! I'm playing. I think what makes me stand out as an artist is I'm very bad at being a celebrity. I'm too ordinary. I'm more of a fan then an actual performer. I love to listen and enjoy other peoples music then my own. Plus I'm very honest. I hate trying to maintain a lie so I'd rather just put the truth out there and you can judge if you choose to. But at least the truth won't be eating me inside.
But my cheeks are nice though. Lol!
Who are your favourite artists in Botswana and internationally?
I have a lot of favourites both in Botswana and Internationally. Just off the top of my head I can say in Botswana I'm a big fan of a rapper by the name VH, a traditional dance group by the name Culture Spears, an artist by the name Vee, Scar, Groove Cartel, of course I can't forget Zeus, another rapper called HT and Touch Motswak.
Internationally, I like HHP, Salif Keita, Sade, Kanye West, Sting, Proverb, Reason, Tumi and the Volume, Modenine, Mc Chita, C-Real. There are just too many to keep mentioning.
 Who do you think is the doppest producer in Botswana?
At the moment I believe it is The Markedmen Production Collective. It comprises of Producers, @QXJR, @TubzTheMaestro and @Shiszbeats. I also have love for a couple of other producers around such as Lazy-i, Rimzy and The Legendary Prez Beats.
 What can we expect from Chub Heightz in the future?
You can expect a lot more great music, and a lot of movement and diversification within the entertainment Industry as a whole.
Look out for my label compilation mixtape titled "C.O.D.E – Made in Africa"
I'm also working on a collaborative mixtape with Modenine. Mixtape title and release date shall be revealed in time, stay tuned.
Who is your Botswana celebrity crush?
Ahahahahaahahh!! Tapiwa Preston. I catch myself staring at her whenever I see her.  Lol! Heish! *smh*
What are some of the challenges you think are faced by African youth and how can these be addressed?
I think there is a terrible nasty rumour going around among African youth that school is not fun or "Cool" so that automatically means education is not important. African youth need to understand that Education was not meant to be fun, its meant to protect your future. Even if you are not going to work in the field you have studied, having an education helps you against being too narrow minded and naïve to realise the practical things you can achieve and those that are not within your immediate reach.
Reading opens your mind. Get and education, stay in school and never stop learning.
What advice would you give to upcoming musicians?
Remain true to yourself. Whatever path you choose in this business, make sure you remember why you started this in the first place, remember those that believed and helped you get there.- Never stop learning, because that's how you grow and evolve. – Respect your Art, respect your talent and most of All respect your fans. – And God is Everything.
How can your fans connect with you?
Firstly buy my album, then request my video "Space Phunk" on ChannelO and request your favourite Chub Heightz song on your local radio station, and if they don't have it, demand that they get it. – Look me up on our label website: www.markedmeninc.com – Follow me on Twitter: @chubheightz or Like my fan page on Facebook: "Chub Heightz – The Bandleng Native"