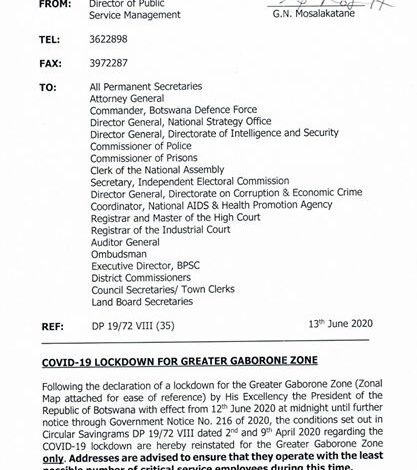 Following the declaration of a lockdown for the Greater Gaborone Zone (Zonal Map attached for ease of reference) by His Excellency the President of the Republic of Botswana with effect from 12th June 2020 at midnight until further notice through Government Notice No. 216 of 2020, the conditions set out in Circular Savingrams DP 19/72 VIII dated 2nd and 9th April 2020 regarding the COVID-19 lockdown are hereby reinstated for the Greater Gaborone Zone only.
Addresses are advised to ensure that they operate with the least possible number of critical service employees during this time.
The Directorate would like to emphasize that the extreme social distancing conditions set out in the above mentioned correspondence are effected over the Greater Gaborone Zone only for all Public Service employees except those performing essential service and approved critical services. Employees are expected once again to remain at home and not move around, but must remain accessible as they are considered to be on duty; and may be recalled.
Public officers outside the Greater Gaborone Zone are therefore not affected by this development and are, as a consequence expected to continue with work as usual within the COVID-19 protocols in their respective areas.
WITH YOUR ASSISTANCE WE SHALL CONQUER COVID-19CONTINUE PRACTICING SOCIAL DISTANCING, WEAR A FACE MASK WHEN AT WORK AND IN PUBLIC PLACES
STAY HOME AND STAY SAFE.