News
Trending
DIS lose with no opposition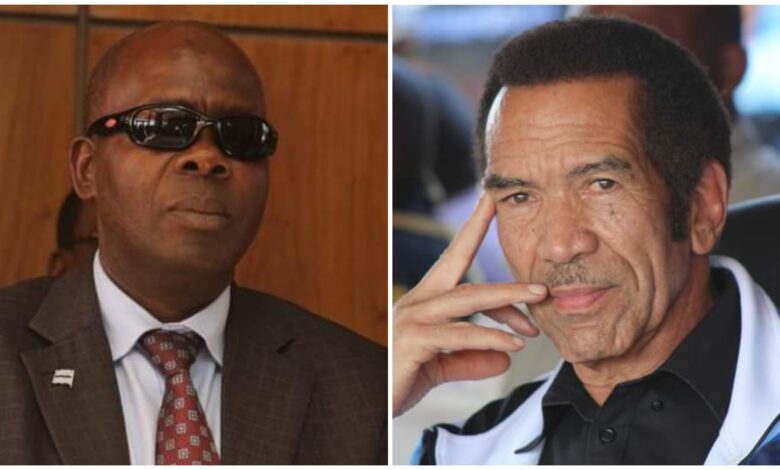 The Directorate of Intelligence Security Services (DIS) has lost a case against Former President His Excellency Lt. Gen. Seretse Khama Ian Khama. This is despite that neither Khama nor his lawyers were present to defend.
Khama is currently in South Africa, and his lawyers indicate that they were not notified of the case by the Applicant's legal team.
On their application, the DIS wanted a warrant to search Former President's residence at Extension 5, Gaborone, also known as State House 4.
The spy agency had indicated that they had erroneously left out State House 4 when applying for a warrant to search Former President Khama's properties.
Rejecting the application by the DIS at Lobatse Magistrate Court, Judge Renair Busang indicated that the reasons put forward by the Applicant were not satisfactory. Judge Busang noted that it is not clear how the 'error' happened.
"It cannot be gainsaid that State House 4 is the Respondent's official and principal residence. The explanation given for its omissions must satisfy the court for the order to be granted given what search and seizure one's property and person entails. Courts in a constitutional democracy like ours must be jealously guard against unjustified violation of the people's constitutional rights, unless there are compelling reasons justifying that course of action.
The supported affidavit explains that;
"?? ??? ?????? ??? ????????? ?? ??? ??????? ???? ??? ?????????? ???? ??? ??????????'? ???????? ????????? ????? ???? 260/261 ????????? 5,???????? ???? ????? ?? ????? ????? 4 ??? ??????????? ???? ???? ??? ?? ??? ?????? ???????…'
The statement does not say how the error occurred and what caused it given that the Respondent is for the most part resident at State House 4. In my judgement a bald and unsubstantiated statement would not suffice for purposes of explaining the omission.
It must be borne in mind that though the Applicant and other law enforcement officers are legally entitled to approach courts ex-parte to procure these types of warrants, such applications are sui generis because they are in the nature of final orders and deprive the Respondent a chance to answer for himself. Utmost good faith, honesty and full disclosure of the circumstances underpinning the application are of the essence in ex-parte applications.
The circumstances of this case are unique given its context, in particular that fact that a warrant was previously issued. If a second warrant is to be issued full and honest disclosure should be proffered, not only on the basis of the existence of an order previously issued and what became of the searches are pursuant to that warrant, but because the law also provides for such disclosure in ex-parte applications." Reads the judgment by Judge Renair Busang.