Sport
Trending
Does the Government really care about Athletes?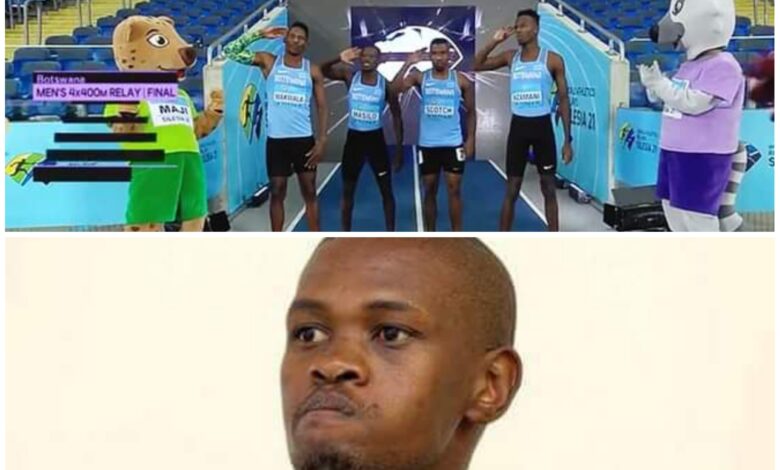 Many have opined that the government does not care much about the athletes, but wants to celebrate them when they succeed. This was perpetuated this past weekend after Botswana 4× 400m Men's Relay performed impressively at Poland World Athletics Relays.
"We have since committed P13 Million in the current financial year to ensure adequate preparations for the Tokyo 2020 Olympic Games" Rakgare, the Minister of Youth Empowerment, Sport and Culture Development asserted.
The Minister says the government has supported the team starting from training camps, travelling and allowances. Rakgare says the government has spent a total of Fifteen million pula (P15 million) on the team.
Moreover, the Minister says that his Ministry has decided to award each member of the team with Fifty thousand pula (P50 000). In addition, each member of the team will receive Eight thousand, three hundred and thirty-three pula, thirty-three thebe (P8 333.33) monthly allowance until the olympics. The World Olympics Games will be held at Tokyo, Japan in August this year. The four team members join Nigel Amos, Christine Botlogetswe and Keamogetse Kenosi who are also receiving the said monthly incentive.
Though the Minister is accusing the public for trying to sow seeds of discord among sporting codes, the complaint was pioneered by athletes themselves. After the Botswana 4× 400m Men's Relay team qualified for the final by scooping position one (1), the Minister congratulated the team only to get an egg on the face from Isaac Makwala. The runner responded to the Minister's comment, "Oh, The Minister does know that we were racing! I thought they didn't know". After the team won bronze in the final, Amantle Montsho posted, "If athletics was football, my brothers would be rich. We are talking about World Athletics Relays here.We have already qualified for the Olympics again".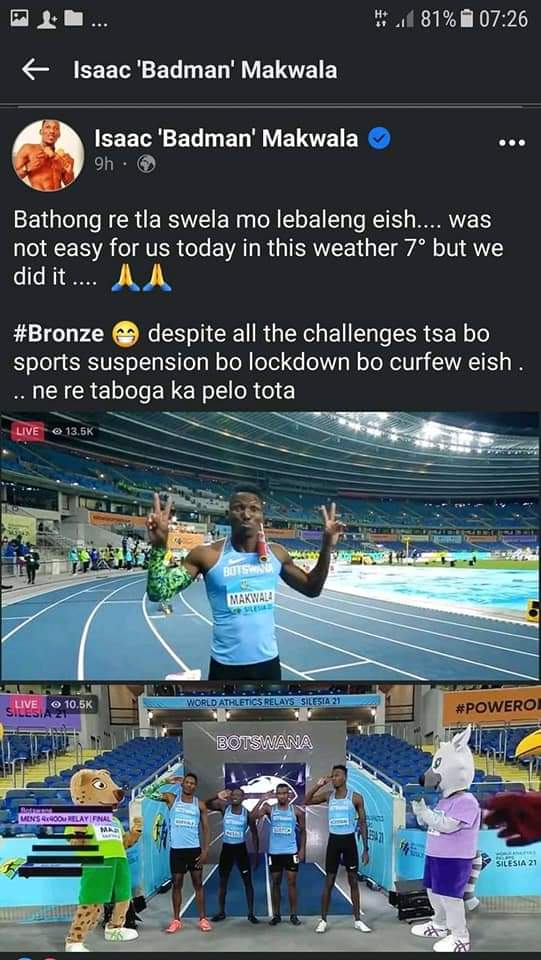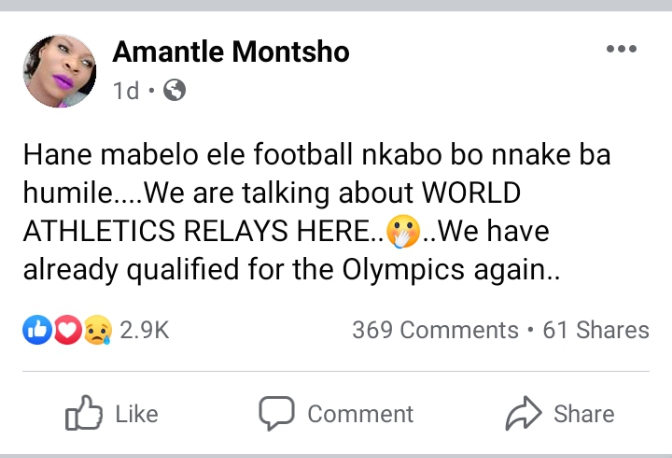 This comes after the Botswana Men's Football Senior National Team was promised Six hundred and fifty thousand pula (P650 000) incentive if they qualify for AFCON 2021. The team however failed to qualify.
Why can't the money which was supposed to be given to Zebras be given to Makwala and his team?" Uyapo Ndadi, a local celebrity lawyer posted on Facebook.