News
Ensure The Needys Inclusion – Peloetletse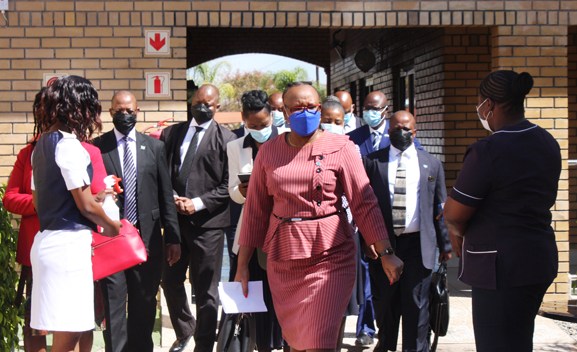 Public officers have been urged to align their policies to the Economic Inclusion Act in order to improve the lives of citizens, especially the disadvantaged.
Permanent Secretary to the President (PSP) Ms Emma Peloetletse told the officers during a consultative meeting in Selebi Phikwe Monday to recognise that some Batswana were left behind due to their socio-economic status.
"Such disadvantaged groups should be assisted to graduate from poverty by aligning your policies to this law as we want to create equal opportunities for all," she said.
Ms Peloetletse implored the attendees, drawn from Selebi Phikwe and Bobirwa Sub-district to design policies aimed at improving the lives of Batswana.
She said policies should address challenges being experienced adding that solutions could be found in day to day issues.
In addition, Ms Peloetletse encouraged government departments to procure goods and services in their respective districts to grow small medium micro enterprises.
PSP raised concern about the public's outcry over corruption and wastage of resources in government.
She stressed the need to root out the two evils in accordance with Public Service Charter principles.
Ms Peloetletse advised the officers to make deliberate decisions on packaging procedures and processes to avoid ambiguity.
Ms Peloetletse reminded officers that they were the custodian of government policies which they should be able to cascade and defend.
She said the starting point was for officers to recognise who they were, what they stood for and what was expected of them.
A public officer was somebody who upheld and lived the values of the Public Service Charter, said PSP.
"The public has entrusted the public service with the responsibility to serve them. We are not in offices to service particular Batswana, we should service all Batswana without fear or favour," she added.
For their part, the public officers complained about centralisation saying it was a contributory factor to poor service delivery in districts.
Chief education officer Mr Tshwarelo Hosia called for decentralisation and deployment of decision makers to the districts.
They also called for the review of outdated policies in order to address today's challenges.
In response, deputy PSP Ms Matshidiso Bokole explained that the decentralisation issue was still to be discussed with DPSM as it required harmonisation of structures.
"Departments should have the same structure throughout the districts. You cannot run the districts with different structures and expect the same delivery," she said.
Ms Bokole emphasised that parastatals were also required to implement the pronounced policies.
Touching on budgetary constraints, deputy PSP encouraged public officers to always prioritise.