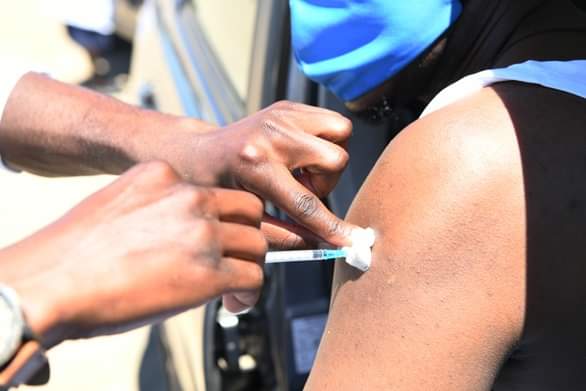 Greater Gaborone District Health Management Team (DHMT) has set up a two (2) day 'walk through' vaccination station at Railpark Mall.
Railpark Mall is one of the buziest malls in Gaborone, and Botswana at large, as such, Gaborone DHMT hopes the two (2) day vaccination drive at the mall will bear required fruits especially amongst the youth who frequent Railpark Mall.
The vaccination drive which started today morning is expected to end tomorrow. The vaccination station opens as 08:00hrs, and closes doorway at 16:00hrs. The station is located Next Moto Spares, where Johnson and Johnson vaccine will be used.
"The public is further informed that Greater Gaborone DHMT-Storms COVID-19 Vaccination Road Show Campaign ended yesterday with about 4000 people inoculated. The Greater Gaborone DHMT vaccination team would like to extend gratitude to the following sponsors who made the campaign a success: Storms Road Shows, Choppies Botswana, Nafprop (Pty) Ltd (Tlokweng Engen Mall), Khumo Properties Asset Management (Pty) Ltd (Air Port Junction Mall and Rail Park Mall), Turnstar Holdings Limited (Game City Mall and Mogoditshane Supa Save Mall) Red Cross as well as Global Communities. The team would also like to thank all members of the public who came through to the campaign and urges all that did not make it visit the Rail Park Mall Vaccination Outreach." said Elizabeth Sebetlela from Greater Gaborone DHMT.
In the wake of the fourth wave of the pandemic, sponsored by the recently discovered Omicron variant, COVID-19 cases have been sky rocketing. Yestarday the COVID-19 Presidential Task Team reported that since December 6, 2021, COVID-19 cases increased rapidly from Four hundred and eighty (480), to Two thousand and twenty-six (2026), as of December 10, 2021.
The team also revealed that by December 10, 2021, One million, one hundred and twenty-five thousand, nine hundred and ninety-three (1,125,993) had received the first shot of COVID-19 vaccine, while One million, and two thousand, three hundred and fifty-eight (1,002,358)were fully vaccinated.