News
Government of Botswana recognises the church as a key partner in the development of the country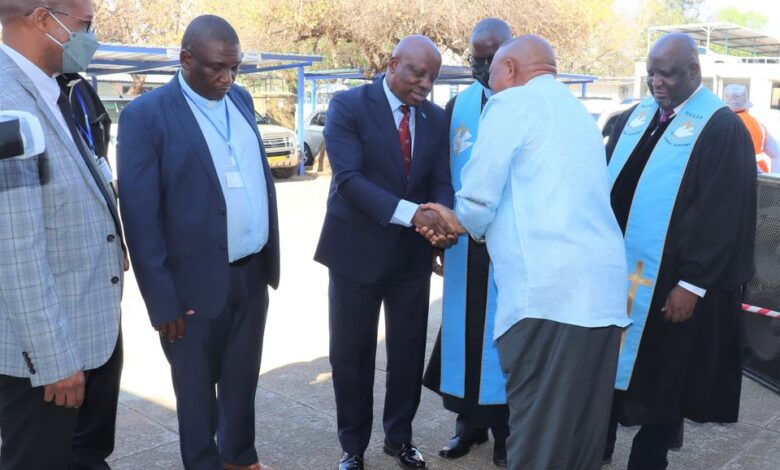 This was said by the Minister for State President Honorable Kabo Morwaeng this morning at the official opening of the United Congregational Church of Southern Africa (UCCSA) 41st general assembly held in Gaborone. The UCCSA general assembly is a conference of five countries where UCCSA exists in, and it is held after every two years, the 2021 assembly was deferred to this year owing to Covid-19 protocols. This year's assembly is held under the theme: 𝑹𝒆𝒂𝒄𝒉𝒊𝒏𝒈 𝒏𝒆𝒘 𝒇𝒓𝒐𝒏𝒕𝒊𝒆𝒓-𝑯𝒐𝒑𝒆 𝒂𝒏𝒅 𝑯𝒆𝒂𝒍𝒊𝒏𝒈.
Minister Morwaeng said post formation, the UCCSA grew to be a true partner in the development and liberation of Southern Africa. He said UCCSA played a significant role during the dark and tough years of liberation struggle for independence of many of Southern African countries.
Morwaeng said government recognises UCCSA pioneering work in Educational Services, Health Services and Community Development Work not just in Botswana but all other five countries that it exist on.
Minister Morwaeng said further indicated that in Botswana, the UCCSA Church played a critical role towards the political self-governance of Botswana. "When the respected three Dikgosi went to seek British protection in London, they were accompanied and aided by Reverend Willoughby of the LMS, now UCCSA, this is a profound contribution to which we remain eternally grateful for" he added
Meanwhile out-going President of the UCCSA Rev Sikhalo Cele, implored government to ensure that the space of the church is not curtailed, in the implementation of The Financial Action Task Force Recommendations, in the fight against money laundering and terrorism financing and proliferation. He said as the church they remain worried by the pain that societies are subjected to such as social and economic challenges as well as regional instabilities.