News
Trending
"It is false that my security team have implicated me" Khama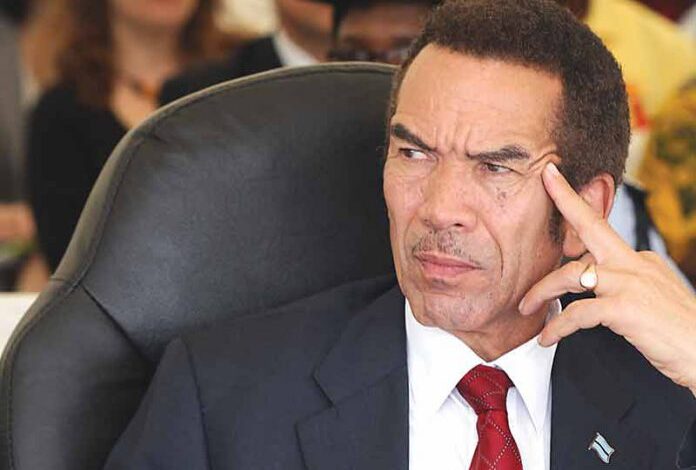 The former President His Excellency Lt. Gen. Seretse Khama Ian Khama has refuted allegations that Head of his Private Security has implicated him in illegal activities.
Former President Khama said through his Facebook page that the allegations are not true as there are no illegal activities which he is involved in. Khama says the narration is an act of desperation by the Directorate of Intelligence and Security Services.
Though the former President confirm that Head of his Private Security got detained, he has denied all which the reports say he is implicated in.
"I have noted with contempt the fabricated story that is circulating on social media about the Head of my Private Security implicating me. It is evident that the DISS illegal and continuing harassment on Facebook is desperation brought about by their blundering and clumsy actions. I would like to clear up the deliberate misinformation of yesterday's events.
It is true late afternoon yesterday (06/12/2021), my head of private security and one of my security personnel were unceremoniously detained by the DISS, this follows a recent spate of unjustified over-night and illegal detentions of my employees and close friends.
It is false that my security team have implicated me in any illegal activity and that they are providing evidence against me for illegal weapons, cash and contraband because those things do not exist in my possession. As time will tell the public will fully understand what is motivating these false detainments which are designed to intimidate and coerce innocent people and their families into joining a politically motivated state funded witch-hunt against me and my family.
Batswana you need to be patient to allow for the truth to reveal itself, and carefully vet lies and blatant public displays of amateurism emanating from the so called DISS and its wayward and misguided masters. Thank you!" Former President said through his Facebook post.
This follows an article by The North West Mail which reported on the matter recently.
The North West Mail reported that Mike Maake, Head of Khama's Private Security, told the DIS that the former statesman is hiding more guns. The publication further reported that Maake revealed Khama's specific whereabouts and how some of his illegal guns were smuggled into the Directorate of Intelligence Service armoury. The North West Mail further reports that Maake has revealed Khama's private security salaries and how much they earn