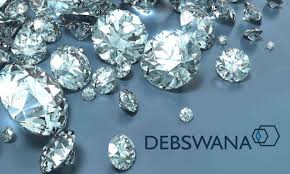 The Debswana Jwaneng mine has discovered the largest diamond in the history of the mine. The said diamond was discovered the first day of this month and is set to be presented to His Excellency the President Dr. Mokgweetsi Eric Keabetswe Masisi tomorrow in the morning (09:30 to 10:00) at the State House.
The Media Advisory issued by the Press Secretary to the President- Mr. Batlhalefi David Leagajang revealed;
"Debswana Diamond Company will tomorrow morning 16th June 2021 present a 1,098.30 carat Diamond to His Excellency, the President Dr Mokgweetsi Masisi and Cabinet. The diamond recovered on the 1st June 2021 from the south kimberlite pipe at Jwaneng mine, is the largest gem quality diamond in the company's history since diamonds were discovered in the country in 1967. By this advisory you are invited to cover this presentation."
Debswana Diamond Company was established in 1969 and it is owned in equal shares by the Government of the Republic of Botswana and The De Beers Group of Companies.
Owned by Debswana, Jwaneng Mine is the richest diamond mine in the world by value. The mine became fully operational in August 1982, when it was officially opened by the then President of Botswana, His Excellency Sir Ketumile Masire. Construction of the mine and the township commenced rapidly, the former coming into full production in July 1982.
Jwaneng Mine is the flagship of Debswana due to substantially higher dollar per carat obtained for its gems. Jwaneng Mine contributes about Sixty to Seventy percent (60-70%) of Debswana's total revenue. Production normally varies according to mining plans of approximately Twelve point five to Fifteen (12.5 to 15) million carats per year.
According to Diamond Prices Index The average price per carat of all diamonds, as of 1 June 2021 stands at $10,977.26, up from $10,795.00 (approximately Hundred and Fifteen to Hundred and Seventeen thousand Pula (BWP115 000 to BWP117 thousand). Meaning the large precious stone could sell for at least One hundred and Twenty-eight Million, Five hundred and one thousand, and hundred Pula (BWP128 501,100).