Sport
Makwala Gets The President's Seat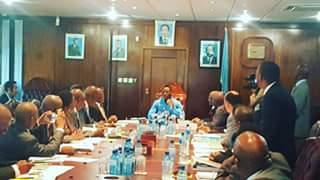 Isn't our president just cool? Yesterday the athletics team that went to shine in the Bahamas and brought back a silver medal from their 4x400m relay paid a courtesy call to the office of the president.
President Ian Khama allowed one of the athletes, Isaac Makwala to sit on the presidential chair and tell the cabinet what his top priority would be if he becomes the president and Makwala told the cabinet sport will be at the top of his agenda especially athletics since they were performing well.
The team made of Karabo Sibanda, Baboloki Thebe,Onkabetse Nkobolo and Makwala made the whole nation with their outstanding performance at the recent IAAF/BTC World Relays that were held at the Thomas A Robinson Stadium in Nassau.