News
Minister for State President Hon Kabo Morwaeng last night launched #excellence radio program in Gaborone.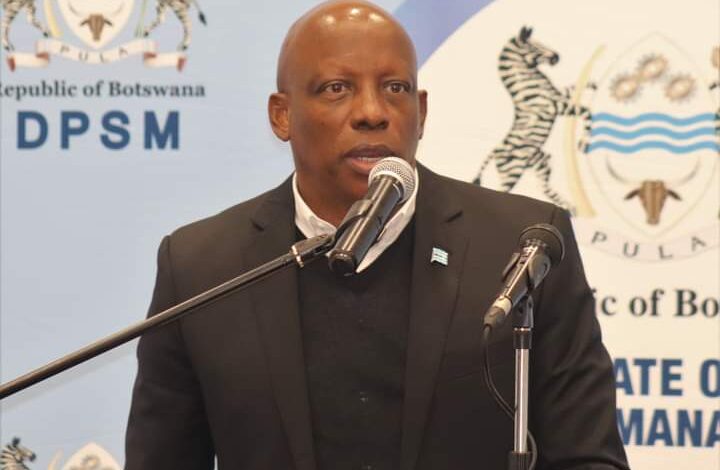 𝐃𝐏𝐒𝐌 #𝐄𝐗𝐂𝐄𝐋𝐋𝐄𝐍𝐂𝐄 𝐑𝐀𝐃𝐈𝐎 𝐏𝐑𝐎𝐆𝐑𝐀𝐌 𝐎𝐅𝐅𝐈𝐂𝐈𝐀𝐋𝐋𝐘 𝐋𝐀𝐔𝐍𝐂𝐇𝐄𝐃
Minister for State President Hon Kabo Morwaeng last night launched #excellence radio program in Gaborone.
Minister Morwaeng said the radio program was conceptualised and realised through collaborative efforts of Duma FM Radio Station and Keywealth Group management support by government through Directorate of Public Service Management DPSM. He said the program which will be aired every Tuesday at 1800hrs-1900hrs on Duma FM will empower public servants and the wider public by improving information dissemination and consequently enhancing public service delivery.
He said with the program governments looks forward to improved service delivery by an informed public service and see informed communities who will hence forth be receiving credible and informative public service opportunities.
"The radio program will indeed go a long way in changing the landscape of service delivery in the public service as there will be a lot of more robust and frequent engagement between the employer, public service and the wider public" Minister Morwaeng said.
He urged public officers to treat the program as a practical feedback mechanism citing that some feedback may be hard and critical of government service, however that should be seen as a golden opportunity to amend and align with public expectations.
Meanwhile Duma FM Station Manager Mr. Donald Seberane said Duma FM remain at the forefront of nation conversations on issues that affect, impact, change and shape the listeners for the better. He expressed that the station prides itself on information, education and dialogue as cornerstone of their made, and for that hosting #Excellence radio will be anchored on lasting learning by listeners.
For her part DPSM Director Ms. Gaone Macholo said the program offers an exciting opportunity for them as an institution to educate the public about their mandate. She said the program is aims to have live discussions, provoke thinking and conversations. Ms. Macholo said with the discovery of low morale in the public service the program will offer live conversation on how to improve on such among many others.