News
One Of The Officials Serving The Preident Test Positive For Covid-19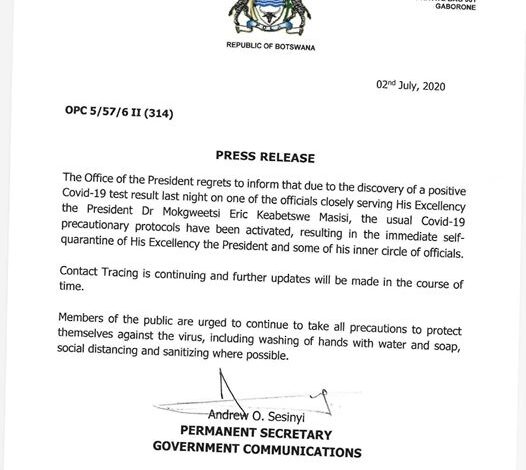 The Office of the President regrets to inform that due to the discovery of a positive Covid-19 test result last night on one of the officials closely serving His Excellency the President Dr Mokgweetsi Eric Keabetswe Masisi, the usual Covid-19 precautionary protocols have been activated, resulting in the immediate self-quarantine of His Excellency the President and some of his inner circle of officials.
Contact Tracing is continuing and further updates will be made in the course of time.
Members of the public are urged to continue to take all precautions to protect themselves against the virus, including washing of hands with water and soap, social distancing and sanitizing where possible.
[Signed]
Andrew O. Sesinyi
PERMANENT SECRETARY GOVERNMENT COMMUNICATIONS