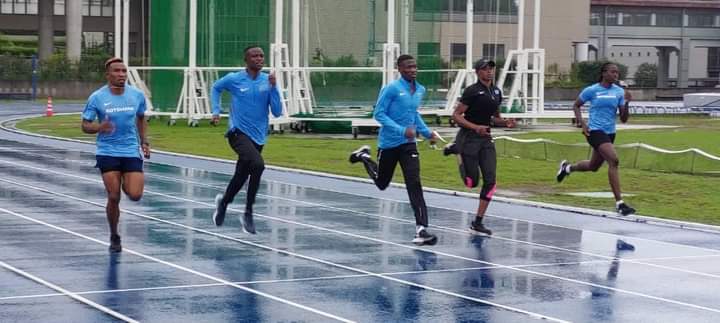 The Minister of Youth Empowerment, Sport and Culture Development- Honourable Tumiso Rakgare says the government will spend Seven point five Million Pula (P7.5 million) on athletes who have qualified for Tokyo 2020 Olympics. The P7.5 million will be used during the course of preparation and competition.
"Government has been the main sponsor for Team Botswana through the preparations for the Olympic and Paralympic Games over the past five years. As I stated last week in this House during my response to Honourable Majaga's question, the Ministry already spent P33.3m on the teams in the past three years. Funding covered athlete preparations (training and qualifying for the games), accommodation, flight tickets, athlete welfare and other administrative costs associated with getting the team ready for Tokyo. An additional P7.5m will be spent on the team between now and the end of the Games in August 2021." Rakgare revealed.
The Minister was speaking at the Parliament recently when updating the national assembly and the nation on preparations for Tokyo 2020 Olympics and Paralympics.
The Minister further revealed that the athletes were given a monthly allowance of Eight thousand, three hundred and Thirty-three Pula (P8,333.00) upon qualifying for the Olympics. Moreover, each athlete received a Twenty-five thousand Pula (P25 000.00) qualification fee for the games. Furthermore, the Minister says the camping allowances were adjusted upwards, from Four hundred and eighty Pula (P480) per day to Seven hundred and twenty Pula (P720) per day while the athletes are in Tokyo. The adjustment was made for the first time since 2012.
Rakgare encouraged the private sector to participate in supporting the athletes. He lamented that the private sector is not sufficiently helping the government. "I am worried by the low participation of our private sector in the support of our young people in sport. Despite the offer of up to 20% in tax rebates for supporting sport as per the Income Tax Act Section 51(2) there is very little appetite for it. I want to take this time to encourage the corporate world to invest in our youth. I do not believe that these multi-national companies are running on such thin profit margins that they cannot spare a Pula for sport. The sport industry can contribute to our economy and create jobs with the right investment and management." the Minister lamented.
Botswana has qualified fourteen (14) Athletes to the forthcoming Olympic Games and they will be accompanied by eleven (11) officials to Tokyo, Japan. The athletes are Nijel Amos (800m), Loungo Scotch (400m), Isaac Makwala (400m), Anthony Pasela (4x400m), Baboloki Thebe (4x400m), Zibane Ngozi (4x400m), Bayapo Ndori (4x400m), Amantle Nkape-Montsho (400m), Christine Botlogetswe (400m), Galefele Moroko (400m), Keamogetse Kenosi (boxing), Rajab Mohammed (boxing), James Freeman (swimming), and Magdeline Moyengwa (weightlifting). The Paralympics Team consists of three (3) athletes (Bose Mokgwathi, Edwin Masuge, and Gloria Majaga) and two (2) officials.