Celeb News
News
Trending
"Serite awarded for campaigning for Masisi" -Trinahr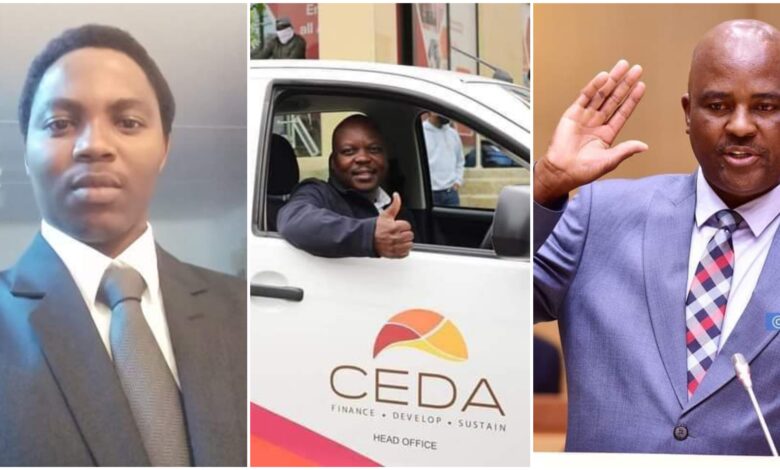 The "Ke mogala ka CEDA" ["I'm a winner because of CEDA"] campaign driver- Sonny Serite has been accused of benefitting from corruption and favouritism. It is alleged that Serite is not CEDA's brand ambassador because he is deserving, but rather as a reward.
One social media commentator known as Trinahr says Sonny Serite is the CEDA brand ambassador today because he campaigned for President Masisi ahead of 2019 general elections.
"Some people asked me on the questions asked by the BPF member of parliament Lesedi Leepetswe regarding Sonny Serite's post at CEDA. Well the 12 questions can be answered by 1 Honest Answer. With the Discover Botswana Expedition and CEDA ambassodor Sonny Serite is being rewarded for his hard work campaigning for his excellency Masisi in 2019. It has nothing to do with merit, ability, bla bla bla, and it is good for him at personal level." he bashed. "What we can learn from Sonny Serite is always fight for a course, with all conditions of the fight laid down. A contract agreement that i fight for you but what will i get in return. He was not fighting for Botswana, He was not fighting for BDP, he was fighting for Masisi. And surely he had strings attached which Masisi was expected to pull once the fight is over. My only plea for now is for Masisi to extend the same to Kgosi Ngakaagae. He also did fight in their corner. Infact he was Sonny Serite's tag team partner. His sometimes outbursts are a sign of a disgruntled man. A man feeling betrayed. A man torn between an unwelcoming opposing team and a disloyal home team." he added.
Trinahr was commenting on the questions asked by Honourable Leepetswe Lesedi, a Member of Parliament for Serowe South.
The legislator wants the Minister of Investment, Trade and Industry to stipulate the following regarding Sonny Serite and Citizen Entrepreneural Development Agency (CEDA);
The terms of appointment of former freelance journalist Mr Sonny Serite as CEDA Brand Ambassador in October 2019 following the general elections.
If there was any open competitive application process with other applicants, promoters and bidders for the role.
If any proposals were submitted by other Batswana to market CEDA prior to his appointment to the Ambassador post.
How much CEDA has spent on the tour and campaign since its inception to date and how much Mr Sonny Serite is being paid for the tour and campaign.
How many places and businesses the tour has visited which were not in the initial proposal and what were its achievements.
How much was spent on the tour beyond the initial proposal and the involvement and role of the CEDA public relations and marketing department in this tour and campaign.
If CEDA employs any communications, public relations and marketing professionals, how many and what are their roles in branding CEDA and promoting its products.
Why CEDA did not deem its communications, public relations and marketing division fit enough to carry out the tour and campaign.
The implications to CEDA'S image in using Mr Sonny Serite's as CEDA Brand Ambassador in light of his known open political activism.
The relationship between Mr Thabo Thamane Chief Executive Officer and Mr Serite.
How much CEDA has spent so far on printing and branding materials for the tour and which companies were awarded this tender and directors on the said companies.
How long the tour is anticipated to run for and what role was given to Mr Serite at CEDA after his initial tour.