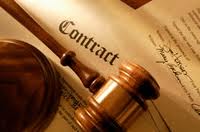 This article looks at how parties having entered into a binding contract may then bring it to an end. Although termination of contract would be usually be provided for in the contract, there are a number of factors and/ or circumstances which may enable one party to cancel or terminate the contracts legally.
We shall consider these factors hereunder. However, I must hasten to state that they are not in any way exhaustive:
BREACH OF CONTRACT: if one of the parties breaches any of the terms and conditions of the contract the other party will be entitled with or without notice to terminate or set aside the contract. Breach implies that one of the parties did not comply with the terms and conditions of the contract.  Hence, parties must endeavour to honour their obligations in a contract. There must be compliance with the agreed terms.
LACK OF CAPACITY: should one of the parties be found to lack capacity, in the sense, they were minors, mentally incapacitated,  drunk at the time of conclusion of the contract or any other factor which may render them legally incapable of entering into legally binding contracts, then, one of the parties may set aside the contract. This may be a valid factor for setting aside the contract. Thus, it cannot be emphasized enough that whenever we enter into contracts we must ensure that the people or entities we enter into contracts with are legally capable of contracting.
ILLEGALITY: Any contract entered into must have a legal basis. It should not be found to be illegal. Any contract entered into for illegal purposes is said to be void ab initio. "Void ab initio," meaning there was never a contract in the first place and that any party may terminate the contract due to its illegality.
4.     IMPOSSIBILITY OF PERFORMANCE:  A contract may be set aside if one party to the contract is due to a number of reasons unable to meet his or her obligations under the contract. These include but not limited to, acts of God, such as a hurricane or tornado. This is normally referred to as impossibility of performance, when parties are unable to perform that which they agreed to. You must note however, that the party who pleads and/ or alleges impossibility is not the cause of such circumstances. The reason for impossibility must not be as a result of the party who finds it impossible to perform.
FRAUD: Fraud usually occurs when one party makes a false representation regarding a material fact, upon which the other party relies which then causes the other party to be "injured".  This representation to qualify must be found to be false and to have been made intentionally and it must relate to a material matter or fact. It must be such that had the other party known of this misrepresentation they would have not entered into such a contract. There should be a causal link between the representation and the conclusion of the contract by the other party. It must be shown the other party entered into the contract unaware of the misrepresentation.
MUTUAL MISTAKE: If both of the parties make a mistake concerning a material fact, the party affected by the mistake may terminate the contract, so long as the other party has not yet performed.
COMPLETION: Not only should a contract be terminated due to the fact that something went wrong. A contract may terminate once the obligations thereunder have been successfully been realized. This means that a contract may come to an end because its mandate has been accomplished.
Having discussed the above legal ways of terminating contracts, it is the writer 's hope that the readers herein will be more equipped to not only enter into valid  contracts but also to know how and when to legally bring them to and end should such a need arise.
PREPARED BY: KUDA TSHIAMO[1]
---
[1]
L.L.M CANDIDATE ( INTERNATIONAL TRADE AND INVESTMENT LAW, UNIVERSITY OF PRETORIA, POST-GRADUATE CERTIFICATE IN ADVANCED TAXATION ( BOTSWANA ACCOUNTANCY COLLEGE), BACHELOR OF LAWS ( UNIVERSITY OF BOTSWANA), LEGAL RESEARCH ASSISTANT ( TRI-AFRICAN ADVISORY SERVICES) , ATTORNEY AT LAW (ADMITTED TO PRACTICE IN THE COURTS OF BOTSWANA), EXECUTIVE MEMBER OF BOTSWANA YOUTH ENTREPRENEURS (BYE).