Business
Trending
"VAT increase regressive and fuels inflation" – Choppies Chairman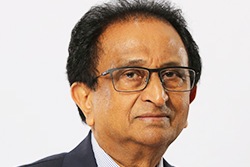 Choppies Enterprises Limited Chairman, Uttum Corea, has condemned the recent government move to increase Value Added Tax (VAT), and other taxes.
Corea says the move is counterproductive, as it came at a wrong time, and hence destructive to the economy.
"I also note the number of macro-economic challenges referred to earlier, including steep increases in power tariffs, fuel price increases, other increases in administered prices and the increase of VAT on 1 April in Botswana. The timing of these could not have been worse as one needs to first stimulate and revive stalled economic programmes and grow the economy before seeking to tax the economy and its people.
The VAT increase in particular is regressive and fuels inflation. Inflation which was contained at 2-3% increased substantially to 8.2% by 30 June 2021, which is the first time inflation has gone above the objective range of 3%-6% since May 2013. Inflation increased to 8.9% by the end of July 2021." Corea highlighted.
Choppies Chairman notes that the inflation rate which was contained throughout the pandemic got out of hand after VAT was increased, and a series of taxes, and levies got introduced. VAT was increased by two percent (2%), power, and fuel tarrifs increased, other taxes- like sugar tax introduced.
Corea is of the view that though Bank of Botswana is hoping that inflation will adjust down in April 2022, this is not only theoretical and will not help the people, but also as these are not normal years and employers will not be able to increase salaries and wages to compensate for inflation quite apart from those who would no longer be in employment due to failing or downsized businesses.
According to Choppies Chairman, to salvage the situation, the government must carry out rapid evaluations of current social upliftment programmes and those that are ineffective should be consolidated into paying a basic income allowance to all those who have lost employment and those who are living below the poverty line.