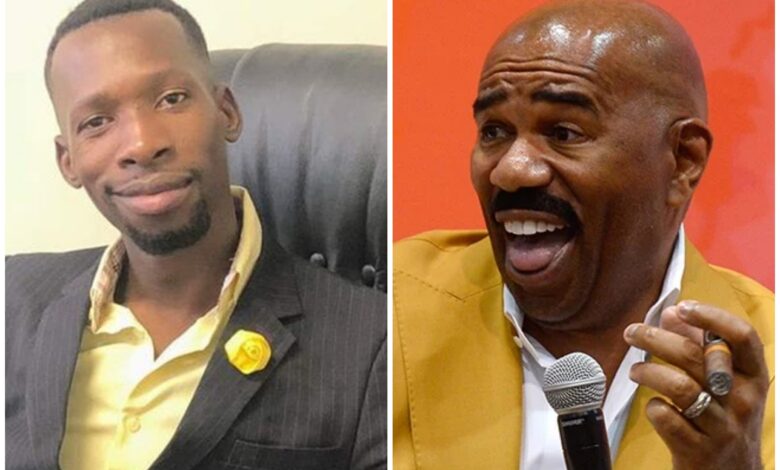 The Botswana Patriotic Front (BPF) has given the cabinet a warning to withdraw Steve Harvey's direct appointment. The Half Billion Pula tender awarded by Department of Broadcasting Services (BDS) which is under the Ministry of Presidential Affairs and Public Administration has attracted a lot of opposition.
"We will at times and places of our choosing consider periodic campaigns of defiance against this looting, and this may include barricading Steve Harvey whenever times he sets foot in Botswana. We also do not rule out picketing and barricading places where he is expected to loot our money from." Lawrence Ookeditse, the Publicity Secretary of the BPF execrated.
The BPF also swore that they shall petition Mr. Harvey to the US Ambassador to make it clear that they are opposed to 'looting involving a US citizen'.
Contrary to the press release issued by the Permanent Secretary to the Ministry of Presidential Affairs and Public Administration- Ms. Pearl Ramokoka, the BPF says the tender could have been floated globally. In so doing opportunities for different bidders to submit their bids would have been created. Moreover, there could have been value for money. The BPF was responding to an assertion by Ramokoka that Steve Harvey Global was directly appointed because 'there is no unique content creator in Botswana'.
"In that statement, Pearl Ramokoka- it appears she is now an enabler of looting- basically says this award is a tender but is not a tender."

Lawrence Ookeditse, BPF Publicity Secretary
Furthermore, the BPF says that the Hundreds of Millions of Pulas that are being splashed at Harvey are not worth it as Traditional Television has got out of fashion. The BPF says nowadays online streaming services like Netflix, and Amazon has taken over.
"Still, anyone that follows showbiz would know that family shows of the 90s and some of the stars of then such as Steve Harvey are not as sought after given the millennials have different tastes- same way Jah Rule was at some point sought after, and later became an expensive mistake for Botswana Tourism." Ookeditse reiterated.