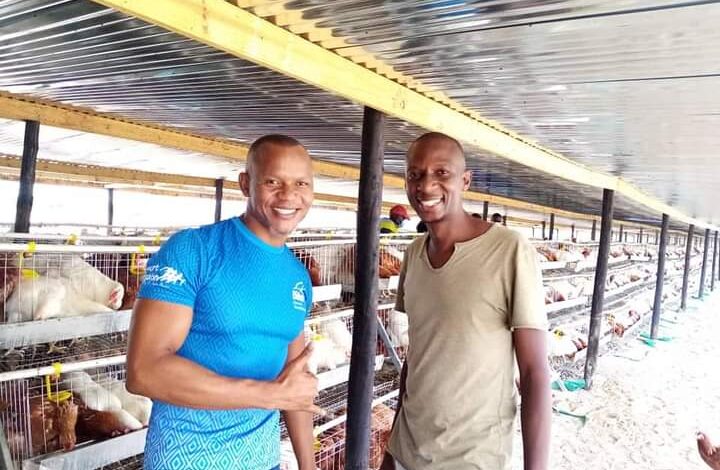 It is a dream of almost every young people out there to get an office job, a job which they will work from eight in the morning and a knock off at five in the evening, and of course with a fixed salary at the end of each month. Coming with that at times being medical aid, a number of allowances and a pension after retirement. But have we as the youth of Botswana ever considered venturing into entrepreneurship, especially agriculture?
From a very young age we were customized to dream of a blue collar job- getting hired. Entrepreneurship has never been really instilled into our minds. Since we were kids, when asked of what we aspire to be, most if not all of us will say we want to be soldiers, teachers, nurses, doctors, police officers, lawyers etc. None of us ever aspired to be an entrepreneur, let alone being a farmer. In fact, farming was seen as a dirty and bottom of the class kind of job which is for the retired and old people.
Ndinaye Chengeta with his farming initiatives is breaking the stereotypes and making farming fashionable among the youth. With as little as two thousand and five hundred pula (P 2 500) every young and aspiring farmer in Botswana now has a chance of actually being a farmer.
"Each Motswana who joins the poultry initiative, contributes P2500 & is put into a group with 19 other people. Each group of 20 therefore collectively has P50000." Chengeta said through a Facebook post.
For poultry initiative, from the Fifty thousand pula (P50 000) contributed by a group of twenty people, nine thousand pula (P9 000) is used to purchase hundred (100) layers at the rate of ninety pula (P90) each.
Twenty-nine thousand pula (P29000) goes towards buying fifty kilograms (50kg) bags of layers mesh for the whole year at the rate of eight (8) bags per month at three hundred pula (P300) per bag for twelve (12) months.
Labour costs takes up twelve thousand pula (P12000) at the rate of a thousand pula (P1 000) per month for the whole year. This is inclusive of project management, administration and logistics.
Egg containers, medications are also covered for the whole year.
Through these initiatives, Chengeta provides something that is seen as luxury and hinders most young people from venturing into farming- land. In addition to that cages and kraals are provided for free. The groups then function as independent business entities.
The Ministries of Agriculture and Youth Empowerment had already showed interest in supporting these initiatives. This makes it easy for the groups to access government offices as their market.
According to the statistics, youth unemployment rate have gone up by three percent (3%), also it is reported that the agricultural import bill stands at close to eight billion pula (P8 billion) annually. With these factors, it is time for us as youth to rethink and realize that Agriculture and food security is an untapped 'diamond'.