News
𝐋𝐨𝐜𝐚𝐥 𝐁𝐫𝐨𝐢𝐥𝐞𝐫 𝐂𝐡𝐢𝐜𝐤𝐞𝐧 𝐚𝐧𝐝 𝐅𝐞𝐞𝐝 𝐏𝐫𝐨𝐝𝐮𝐜𝐞𝐫 𝐥𝐚𝐮𝐧𝐜𝐡𝐞𝐬 𝐬𝐭𝐚𝐭𝐞 𝐨𝐟 𝐭𝐡𝐞 𝐚𝐫𝐭 𝐅𝐞𝐞𝐝 𝐌𝐢𝐥𝐥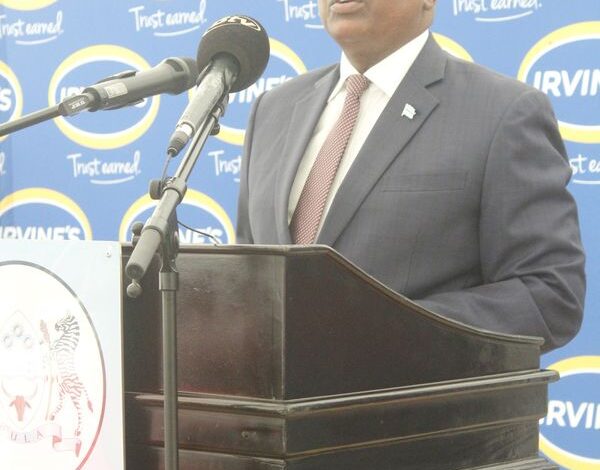 The President of the Republic of Botswana, His Excellency Dr Mokgweetsi Eric Keabetswe Masisi said that "Government remains committed to ensuring economic diversification, employment creation and food security and will do everything in its power to support the private sector through the creation of an enabling environment for businesses to thrive"
When officially launching the Irvine's state of the art feed mill today in Mmamashia, the President also cited that the development of Value Chains in the agricultural sector is one of top priorities as espoused in the Reset Agenda adopted by Government recently. The most modern feed mill in Botswana, lies in Mmamashia along the A1 road and will ensure the country has a reliable supply of high quality feed to both large and small-scale poultry producers. Irvine's has invested 56 Million Pula in the construction of this mill.
Irvine's is a leading regional poultry producer with a long history in Botswana which started with the supply of day old chickens in the early 1990's and grew into broiler production and supplier in line with the government's vision. To date the company employs over 180 employees in their Botswana facilities and has production facilities in Botswana, Mozambique, Tanzania and Zimbabwe.
During the launch, the Irvine's Group CEO, Mr Craig Irvine said that his company pledges a donation of 200 day old chickens each to ten (10) Young Farmers in Botswana to boost their production.
President Dr Masisi was accompanied by the Minister of Trade and Industry Mr Mmusi Kgafela, Minister of Agriculture Mr Fidelis Molao, Minister of Defence and Security Mr Kagiso Mmusi and Assistant Minister of Local Government and Rural Development Mr Mabuse Pule.