News
𝐖𝐀𝐑𝐌 𝐂𝐇𝐈𝐋𝐃𝐑𝐄𝐍'𝐒 𝐇𝐄𝐀𝐑𝐓 𝐃𝐎𝐍𝐀𝐓𝐄𝐒 𝐓𝐎 𝐓𝐒𝐇𝐖𝐀𝐑𝐀𝐆𝐀𝐍𝐎 𝐏𝐑𝐈𝐌𝐀𝐑𝐘 𝐒𝐂𝐇𝐎𝐎𝐋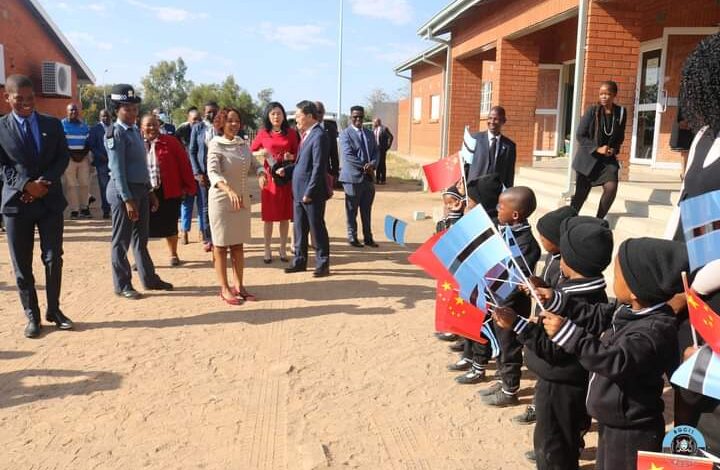 Communities have been urged to come together to create a conducive environment for children to help improve their lives. This was said by the First Lady Ms Neo Jane Masisi at an event by Warm Children's Hearts, a China–Africa Joint Initiative held at Tshwaragano Primary School this morning.
Through the initiative students from three schools in Gaborone South received hampers; medical health checks and treatment; health talks; and school supplies. The aim of the initiative is to help students develop healthy habits in their daily lives.
First Lady Masisi said this goes to support both the Sustainable Development Goal 3 and 5 which talk of good health and wellbeing and quality education for all. She added that this affirms the leaving no one behind principle.
The First Lady went on to say it is very important to ensure children's protection and welfare at all times. She added that children should be celebrated continually and allowed conducive platforms to express themselves.
The Chinese Ambassador, Mr Wang Xuefeng assured that the Chinese Embassy is committed to the wellbeing of the people of Botswana. Ambassador Wang Xuefeng said the embassy is therefore ready to support First Lady Masisi's initiatives to empower women, children and the underprivileged. He further said they are convinced that with a joint effort, the two would attain a lot of in advocating for children and the underprivileged.
The Acting Minister for State President Mr Dumezweni Mthimkhulu who is also a Member of Parliament for Gaborone South, thanked Warm Children's Heart for choosing children in his constituency. Hon Mthimkhulu said this will have a good impact on the future of the children of Old Naledi. He said it will give them confidence that one day they will become better people.