News
𝗠𝗢𝗔𝗧𝗦𝗪𝗜 𝗦𝗪𝗢𝗥𝗡 𝗜𝗡 𝗔𝗦 𝗗𝗜𝗥𝗘𝗖𝗧𝗢𝗥 𝗢𝗙 𝗣𝗨𝗕𝗟𝗜𝗖 𝗣𝗥𝗢𝗦𝗘𝗖𝗨𝗧𝗜𝗢𝗡𝗦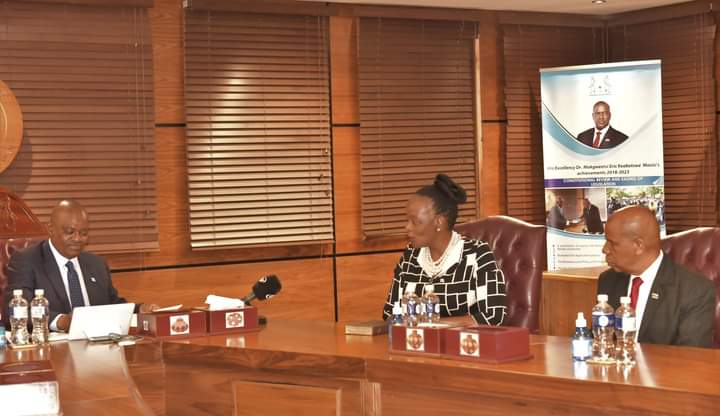 His Excellency the President, Dr Mokgweetsi Eric Keabetswe Masisi presided over the swearing in of Ms. Nomsa Sinki Moatswi following her appointment as the new Director of Public Prosecutions. Ms. took oath of office at the Office of the President this morning.
Ms. Moatswi boasts an experience spanning over 25years in the legal and justice industry. She started her career at the Directorate of Public Prosecutions after graduating with an LLB from the University of Botswana. She was later transferred to Administration of Justice where she rose through the ranks until she reached the level of Registrar of the apex court in Botswana, the Court of Appeal.
Dr Masisi congratulated Ms. Moatswi on her appointment and stated that according to the Constitution of Botswana, everyone assuming one of the highest offices must take the oath of office and allegiance before the seating the President, hence her swearing in this morning. The President called on the new Director to subscribe to highest form of professional standards in execution of her duties.