Sport
Australian Government Considering Boycotting 2018 FIFA World Cup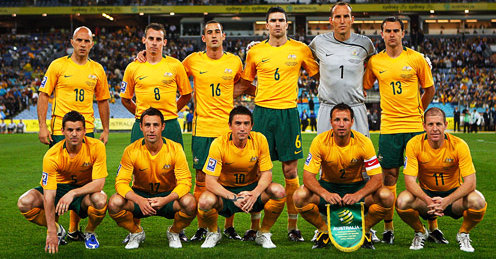 Australian Government Considering Boycotting 2018 FIFA World Cup
The Socceroos have been blindsided by an Australian government threat to boycott the 2018 FIFA World Cup in Russia.
With the Socceroos preparing to face red-hot Colombia on Wednesday, Foreign Minister Julie Bishop on Tuesday declared a World Cup boycott is being considered in relation to the escalating tensions between Australia and Russia.
Bishop confirmed the Australian government is considering a range of further sanctions against Moscow, including a potential World Cup boycott, after the Australian government announced plans to expel two Russian diplomats it believes are undeclared spies.
The response is the latest development in relations between the two countries over the Skripal affair in the UK.
Former Russian double agent Sergei Skripal and his daughter Yulia, remain in a critical condition after they were poisoned with the highly lethal nerve agent Novichok in the English town of Salisbury on March 4 in an attempted assassination.
The UK, United States and their allies have responded with a series of sanctions against Russia.
Bishop admitted on Tuesday a World Cup boycott would be an extreme response.
"In relation to sanctions, Australia already has a range of autonomous sanctions against Russia, in particular those that were imposed in the aftermath of the illegal annexation of Crimea, and those sanctions have been reviewed and updated over time, so we have sanctions against a number of individuals and a number of Russian entities," she said on Tuesday.
"The impact of sanctions, of course, is strongest when it is done collectively, and so we will continue to liaise with the [UK] Foreign Office and other allies and partners on this issue as to whether further action will be taken in response to the deployment of a chemical nerve agent in Salisbury.
"There are a whole range of further options of action that could be taken.
"The boycott of the World Cup is one of the further actions that could be taken in relation to this matter."
Mr Turnbull told reporters in Canberra the latest developments "reflects a pattern of recklessness and aggression by the Russian government".
Meanwhile, Tim Cahill has called on the Socceroos to lift the spirits of the Australian public following the cricket team's ball-tampering scandal in South Africa that has rocked the nation.
Bert van Marwijk's side face a huge test against a red-hot Colombia in London early on Wednesday morning (AEDT) just five days after being thumped 4-1 by Norway in Oslo.
The British newspapers have been giving in-depth coverage to the events in Cape Town and Steve Smith and Cameron Bancroft's press conference even led the BBC's main news bulletin on Sunday.
Cahill said the team were fully aware of the situation, but are doing their best not to get caught up in the media hysteria.
"It's important being the older player that you move the papers from out of the room and make the squad focus on why they are here," Cahill said.
"It's a sad moment for Australian sport.
"We are very proud of where we come from and it's time now to make right for sport in Australia as a whole. We can play our part in that as a team and a squad tomorrow night.