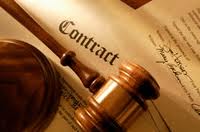 CONTRACT LAW (BOTSWANA)
WHAT IS A CONTRACT?
A contract is a legally binding agreement between two or more persons. It creates legal obligations. A contract may either be oral or written. Although both contracts are acceptable at law, it is highly advisable that any contract or agreement entered into must be written to avoid unnecessary conflicts in the future. Proof must be readily available.
Both 'oral contract' and 'written contract' are defined in the Prescriptions Act as follows[1]:
"written contract" includes a contract of which the terms to be proved in order to establish the claim in issue are in writing  if such writing is admissible in evidence;
And
"oral contract" means any contract other than a written contract'.
DID YOU KNOW CONTRACTS PRESCRIBE?
The period of extinctive prescription for an oral agreement shall be three (3) years and for a written contract shall be six (6) years. This therefore means that once three or six years, respectively, have lapsed, one cannot enforce their rights under the contract. Basically, once three years for an oral contract has passed after conclusion of such a contract, you will not be able to assert your rights thereunder. Similarly, after six years have lapsed after concluding the contract, one is precluded from bringing any claim with respect to the said contract. That is provided for in the Prescriptions Act.[2]
WHAT ARE THE ESSENTIAL INGREDIENTS OF A CONTRACT?
These are the elements that must be in place for a contract to effectively take place. You see, a contract to be binding and enforceable it should have certain elements and these we shall consider below:
OFFER: This reflects the intention of the offeror to the offeree to create a legally binding contract. Such an offer must not be vague nor unequivocal. It must be clearly communicated to the offeree.
ACCEPTANCE: An offer which has been extended by the offeror to the offeree must be accepted for a legally binding contract to come into existence. The acceptance just like the offer has to be neither unconditional nor unequivocal.
MEETING OF MINDS: Once the parties have agreed and understood each other pertaining to the essential terms and conditions of a contract, will a binding contract come into place. Hence, there must be a mutual agreement, there must be an intention to create a legally binding contract or what is commonly referred to as "meeting of minds".
CAPACITY: The persons who enter into a contract must have the ability to enter into contracts. In terms of our law certain classes of persons are incapable of concluding contracts on their own. For instance minors, mentally ill, intoxicated are usually considered incapable or incompetent to conclude contracts. You may need a guardian to enter into contract with them. Advise- always ensure that the people you entering into contracts with are legally capable of entering into such contracts.
CONSIDERATION: For a contract to be binding, something for value must be given for something else for value. Here, we are referring to the price, and consideration is not only limited to money. Parties may agree on what is to be given for value.
The above are the essential ingredients required for an enforceable contract to come into being. The elements are cumulative.
In as much as contracts come into being, provision must be made as to how they will end. Provision for termination of contracts must be made. Now, this is a topic for another day.
After reading this article, expectation is we will not blindly enter into contracts but consider the critical elements that make up a contract before conclusion of same.
PREPARED BY: KUDA TSHIAMO[3]
---
[1] See section 2 of the prescriptions Act, Chapter 13:01
[2] See section 4 of the prescriptions Act
[3] L.L.M CANDIDATE ( INTERNATIONAL TRADE AND INVESTMENT LAW, UNIVERSITY OF PRETORIA, POST-GRADUATE CERTIFICATE IN ADVANCED TAXATION ( BOTSWANA ACCOUNTANCY COLLEGE), BACHELOR OF LAWS ( UNIVERSITY OF BOTSWANA), LEGAL RESEARCH ASSISTANT ( TRI-AFRICAN ADVISORY SERVICES) , ATTORNEY AT LAW (ADMITTED TO PRACTICE IN THE COURTS OF BOTSWANA), EXECUTIVE MEMBER OF BOTSWANA YOUTH ENTREPRENEURS (BYE).