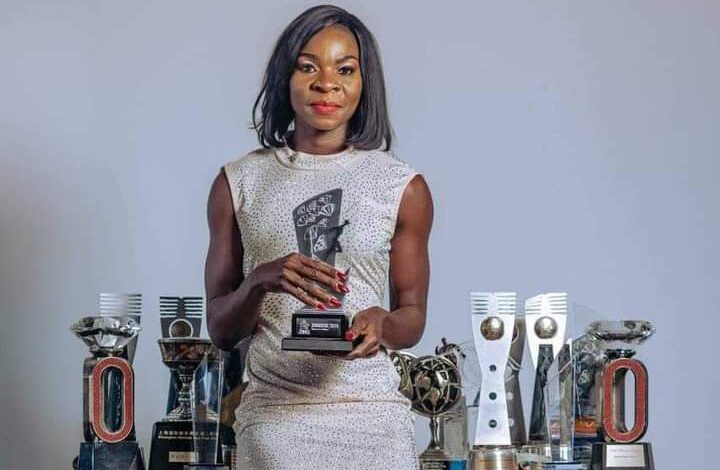 The local runner Amantle Victor-Nkape, popularly known as Amantle Montsho has announced her retirement from professional athletics this morning.
Speaking a few hours back in a press conference at Gaborone International Conference Center (GICC) Amantle Montsho announced;
"It's offset note to officially announce my retirement from professional athletics for obvious reasons. Age has caught up, and only God knows how much my heart fills with excitement for every moment I represented Botswana and Africa at large. To taste God's air, the adrenaline rush on track, thousands of people all eyes on me, fans chanting a name not friendly to a foreign tougue, "it's Amantle Moncho from Botswana". I don't want to speak much as there is a date for such goodbye. I'm sure the question is now, "what I have left for athletics?" To answer that, I have engaged a company that will be managing me now, House1957 Media. It is with the team, that we are putting up the event to say goodbye and thank you to my country, coaches, teammates, fans, and everybody who have helped me in moulding me in my professional career, it is an event as well. I will be unveiling my retirement plans or projects. I'm gonna dance for you, sing for you, the list is endless, just to say thank you to Botswana to have afforded me the time you had. There surely been more love than hate, more smiles than tears. What else can a girl from Maun ask for?"
According to the Amantle's new management, the event where the veteran's retirement plans and projects will be unveiled will be on 25 November 2021, followed by series of events. The highlight being the 10th December 2021 where she will be bidding farewell at her home town, Maun.
The private sector, government, and all stakeholders has been called on board to take part in bidding the national legend a farewell.
At age of Thirty-eight (38) years, at retirement, some of Amantle Montsho's honours according to Botswana Athletics Association (BAA) are as follows;
1*World Athletics Championships Gold Medalist(The first and Only medal for BW at the World Championships) 2011, Daeugu, Korea
1* World Athletics Championships Silver Medalist Moskva, Russia 2013
1* World Indoor Bronze Medalist (Doha,Qatar 2010)
1* World Continental Cup Gold Medalist (Split, Croatia 2010)
1* World Continental Cup 4*400m Silver Medalist (Split, Croatia 2010)
2* All Africa Games Gold Medalist (Maputo 2010, Algiers 2007)
1* All Africa Games Silver Medalist (Rabat 2019)
3* African Championships Gold Medalist (Addis Ababa 2008, Nairobi 2010 & Porto Novo 2012)
2* African Championships Silver Medalist ( Bambous 2006, Porto Novo 2012)
2* Olympic Games Finalist (London 2012 and Beijing 2008 Olympics)
4* World Championships Finalist
2* Commonwealth Games Gold Medalist (New Delhi 2010 & Gold Coast 2018)
1* Commonwealth Games Bronze Medalist (4*400m relay 2018).
National Record holder of the w 400m outdoor and indoor
3* Diamond League Champion
16 15* Diamond League Meeting wins.