Celeb News
Snapchat Stock Drops $800 Million After Rihanna Condemned Ad Making Light Of Domestic Violence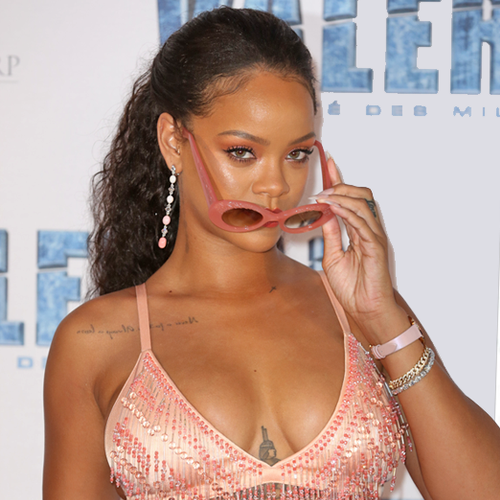 Less than a month after Kylie Jenner sent Snapchat stock into a downward spiral, another celebrity slam on the photo-sharing app has seemingly caused the company to take a major hit.
The stock prices of Snap Inc. fell around 4 percent on Thursday, reported CNN. The dip came after Rihanna responded to the app's apology for running an ad for a game called "Would You Rather" asking users if they would rather slap Rihanna or punch her ex Chris Brown, alluding to a 2009 domestic violence incident. The market value of the app's parent company dropped almost $800 million, according to the outlet.
In 2009, Rihanna's then-boyfriend Brown physically assaulted her in his car ahead of a Grammys party.
Brown, now 28, was charged with two felony counts — assault and making criminal threats — and the exes reached a plea agreement that spared Brown jail time after he pleaded guilty to felony assault by means likely to cause great bodily injury.
After the social media app apologized on Tuesday for running the since-pulled ad, Rihanna responded via Instagram on Thursday.
"Now SNAPCHAT I know you already know you ain't my fav app out there! But I'm just trying to figure out what the point was with this mess! I'd love to call it ignorance, but I know you ain't that dumb!" the 30-year-old singer wrote in an Instagram Story.
"You spent money to animate something that would intentionally bring shame to DV victims and made a joke of it!!! This isn't about my personal feelings, cause I don't have much of them…but all the women, children and men that have been victims of DV in the past and especially the ones who haven't made it out yet…you let us down!" Rihanna's post continued.
"Shame on you," she added. "Throw the whole app-oligy away."
Brown's lawyer Mark Geragos shared the following statement with PEOPLE: "Whoever conceived this at Snapchat needs to be slapped."
"This advertisement is disgusting and never should have appeared on our service. We are so sorry we made the terrible mistake of allowing it through our review process. We are investigating how that happened so that we can make sure it never happens again," Snapchat said in a statement to The Hollywood Reporter on Thursday.
After removing the ad from the app on Tuesday, Snapchat also released the following statement to the BBC: "The advert was reviewed and approved in error, as it violates our advertising guidelines. We immediately removed the ad last weekend, once we became aware. We are sorry that this happened."
Last month, Snapchat's stock dropped $1.3 billion in market value, according to Time, after Jenner revealed to her followers that she no longer opens the app.