News
THE ACTING MINISTER OF FOREIGN AFFAIRS AND THE MINISTER OF DEFENCE AND SECURITY UNDERTAKE A FACT-FINDING MISSION TO MALAWI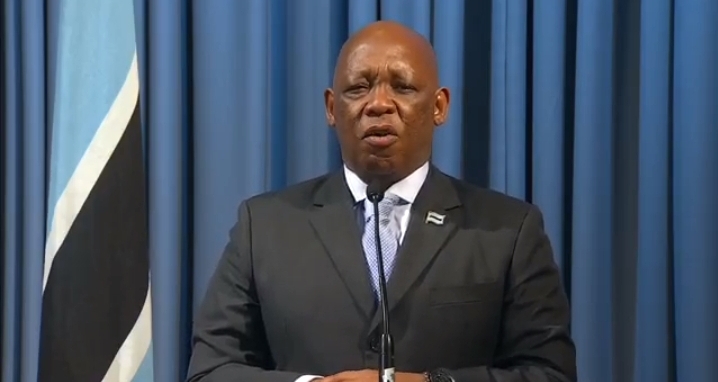 GABORONE, 20th March 2023: The Minister for State President and Acting Minister of Foreign Affairs, Honourable Kabo Neale Morwaeng, accompanied by the Minister of Defence and Security, Honourable Kagiso Thomas Mmusi, Executive Secretary of SADC, His Excellency Mr. Elias Mpedi Magosi and Senior Government Officials paid a one-day official visit to Malawi on 19th March 2023. The purpose of the visit was to appreciate first-hand the devastation caused by cyclone Freddy, which hit Malawi on 10th March 2023 causing damage in at least 10 districts in the southern part of the country. The President of Malawi, His Excellency Mr. Lazarus Chakwera, declared a state of disaster and 15 days of mourning on the 13th March 2023, and appealed for international assistance.
Minister Morwaeng and his delegation were met in Blantyre by Malawi Minister of Defence Honourable Harry Mkandawire and Minister of Foreign Affairs Honourable Nancy Tembo. The Malawi authorities expressed gratitude to the Government and the people of Botswana for the visit and support given at a time of great need in their country. The Botswana delegation was briefed on ongoing search and rescue operations and efforts to address the plight of displaced people. They were informed that 500 people have been confirmed dead, 300 missing and hundreds of thousands displaced and homeless. The Botswana delegation was also taken on a guided tour of the affected areas around Blantyre. The delegation visited a campsite housing 4000 people set up to accommodate some of the displaced people and an area which had been hit by flash floods and mudslides. The delegation was informed that many people perished in land and mudslides that swept away homes built on slopes and witnessed rescue teams comprising the army and police digging rubble where victims were reportedly buried.
The Malawi authorities identified immediate needs for relief efforts as food items, sanitary pads, medical supplies, shelter/tents to accommodate displaced persons, and milk for children under the age of three. The situation remains dire and will likely affect more people as flood waters are now reaching low-lying areas and flooding ploughing fields and destroying crops. There are also fears of cholera outbreaks in some of the flooded areas.