Sport
The young stellar athlete that is Denzel Seetso Denzel reached number one tennis player in Africa for under 14 age group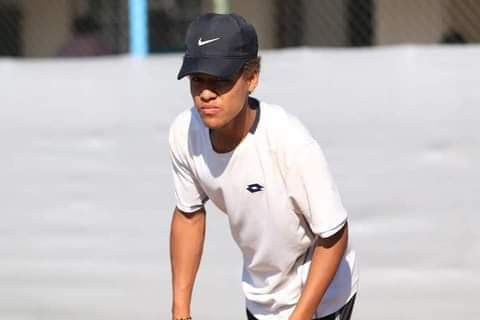 𝐃𝐞𝐧𝐳𝐞𝐥 𝐒𝐞𝐞𝐭𝐬𝐨
The young stellar athlete that is Denzel Seetso Denzel reached number one tennis player in Africa for under 14 age group, qualified for tennis Europe tour (top 3 in African Junior Championship, April), Orange Bowl and Eddie Herr International Championships (number 1 in Africa) in Florida, USA to compete with the very best tennis juniors from all over the world. Denzel maintained the position of no.1 senior player and junior player in Botswana at the age of 16, being the youngest player from Botswana to play a Davis Cup tie. Denzel came third in the African Junior championships in the singles category and went on to win the doubles at the same event.
𝐌𝐎𝐑𝐄 𝐀𝐂𝐇𝐈𝐄𝐕𝐄𝐌𝐄𝐍𝐓𝐒
2023: started the year at ranking 209, first tournament of the year was the African Junior Championships in February: reached round of 16. From there went on to win the ITF J100 leg 2 in Potchefstroom, South Africa. Reached new career high of 183.
2022: started the year with injury, returned to playing in February, reached semifinal in ITF J4 Potchefstroom. Won ITF J4 Gaborone, won ITF J4 Pretoria, played for Botswana at the Davis Cup as no.1 in Rwanda, Kigali reached quarter final of ITF J3 Harare, won ITF J5 Gaborone, reached semifinal of J3 ITF Johannesburg, sustained abdominal injury there, reached ITF ranking of 209.
2021: returned to playing mid –year, starting from ranking of approx. 1250; represented Botswana in Davis Cup as the youngest ever player with a win loss ratio of 3 to 1; Won the under 16 ITF African title in doubles and Bonze in Singles, reached Quarter finals of Grade 3 in SA, reached semi-finals of under 20 zonal championships in singles and doubles despite carrying an injury and subsequent withdrawal from the competition.
2019: August, competed in All Africa Games as the youngest Motswana possibly the youngest competitor
Nominated for Botswana National Sports Awards in 2019 at age of 14, Botswana National Sports Award Winner 2020
𝐁𝐄𝐒𝐓 𝐓𝐎𝐔𝐑𝐍𝐀𝐌𝐄𝐍𝐓 𝐑𝐄𝐒𝐔𝐋𝐓𝐒
2023: ITF J100 Potchefstroom winner
2022: ITF J4 Gaborone winner; ITF J4 Pretoria winner, ITF J5 winner, ITF J3 Johannesburg b semifinalist, ITF J3 Harare quarter finalist
2021: Quarter finals Grade 4, Zimbabwe; semi-final doubles Grade 4, Grade 3 quarter finals Pretoria
2019: overview
medals in all continental competitions: 2 silvers at African Junior Championships, 1 bronze at African Masters, finished the year as number 1 ITF/CAT ranking and number 1 ITF pick to represent African continent during the ITF GSDF International 14&U Touring Team; Southern African Junior Champion
Participated in 6 ITF/CAT under 14&U tournaments across the continent: won 6 singles titles
January: ITF/CAT Southern African Individual & Team Junior Championship – Namibia: Position 1 singles, semifinal doubles, position 2: Team Competitions
March: Invitation tournament in reunion; March 18 – 24 March 2019, Clay Court Event: Position 1 Doubles, Position 2, Singles, (French ranking event)
Denzel has many achievements under his belt mentioned above are just some of his winnings, he is currently on Tunisia, Turkey and Morocco tour for International Tennis Tournament J100.