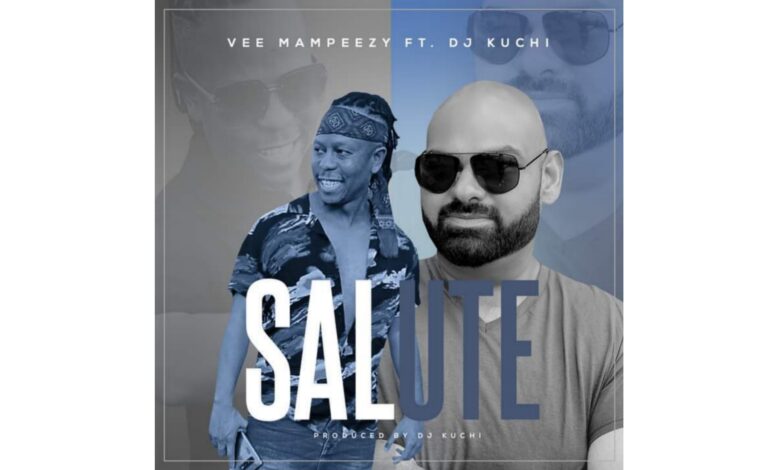 Vee Mampeezy has once again done what he is popupaly known for- releasing hit after hit and setting up trends. This time around he has released a single titled "Salute" featuring DJ Kuchi.
In the four minute hit song, Vee Mampeezy urges the importance of respecting everyone with the job or work that they are doing to put food on the table. In this song Mampeezy says they should be "saluted". The message of the song seeks to break negative attitude that is often showed towards some professions that are most often than not seen as low of the class in one way or the other. At the same time the song encourages people to be proud of their different hustles.
With just two hours after the song was uploaded, it has already been downloaded for over twenty-three thousand (23 000) times! In an effort to increase the vibe around the song and grow its popularity, Vee Mampeezy is calling out for fans to forward their videos to him either dancing to the tune or listening to it while engaged in what they do for a living- the video will then be posted on Vee Mampeezy's Facebook page. With one video already been uploaded, people are already commenting with their photos at their workplaces.
Vee Mampeezy is a well renowned artist and a songwriter, he has been in the music industry for about two (2) decades now. He has been successful with his songs being widely played on local and international radio and television channels. Mampeezy has won several awards as well as striking deals with numerous organizations which contributed immensely to the wealth he currently possess.
Kunaal Jinabhai, better known to most as DJ Kuchi is considered one of the best DJ's not only in Botswana, but in the Southern African region as well. Kuchi's skill is not limited to being a DJ, but also includes his strong and versatile ability as a music producer; producing everything from Deep Soulful, Funky, Commercial to Electro House. DJ Kuchi has been a resident DJ for a number of lounges in Botswana and his music is being played in a good number of local radio stations and a few of South African stations. DJ Kuchi has featured several well known artists in Botswana including ATI, Han-C, Khoisan, Charma Gal, and Amantle Brown among others.
With the rate at which the song is being downloaded and gaining momentum, it is safe to assume that it may be the next big thing and join the "million views/downloads club"