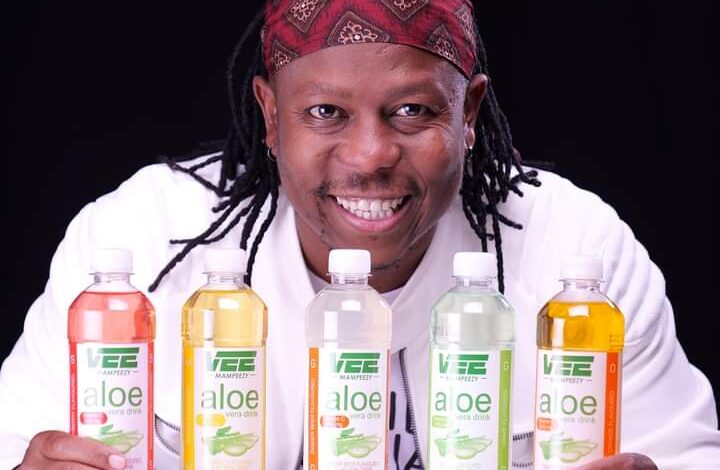 Recently he launched an aloe drink, a few months after launching bottled still water, Vee Mampeezy is now working on an immune booster. The renowned artist wants to help in the fight against Corona Virus Disease (COVID-19) pandemic.
Mampeezy revealed his intentions through a Facebook post;
"We are loosing a lot of people though this COVID 19 pandemic, I believe all of us must join in the fight to stop it. For me loosing people it's more painful ,1…I care about people..2 …I have been working with people my whole life…For those 2 reasons ME AND MY TEAM HAVE DECIDED TO WORK ON A "1,000mg VITAMIN C DRINK "that is Sugur and Gluten free 'This drink will help boost immune system and help my people fight COVID 19 I'm not saying this is a cure for COVID BUT it can help fight COVID better .As I speak my team is in the lab to achieve this and treating it as an urgent matter.. let's save lives !'"
According to pubmed.com, Vitamin C, also known as ascorbic acid, contributes to immune defense by supporting various cellular functions of both the innate and adaptive immune system. Moreover it supports epithelial barrier function against pathogens and promotes the oxidant scavenging activity of the skin, thereby potentially protecting against environmental oxidative stress.
"Vitamin C accumulates in phagocytic cells, such as neutrophils, and can enhance chemotaxis, phagocytosis, generation of reactive oxygen species, and ultimately microbial killing".

Pubmed.com
Since the closure of the entertainment industry due to COVID-19, many artists have been having a rough patch. Meanwhile, Vee Mampeezy has turned to entrepreneurship. With the products he has launched and still to launch, not only will he sustain himself, but Vee Mampeezy is also keeping the nation healthy and contributing to the fight against the pandemic.