News
YOUTH PARTICIPATE ON THE NATIONAL BUDGET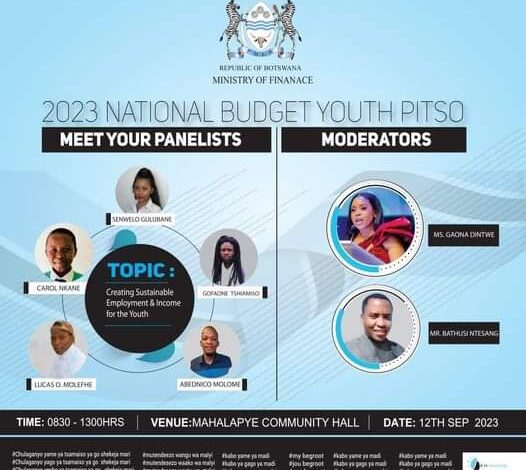 The Ministry of Finance hosted its first ever National Budget Youth Pitso to engage youth on issues of National Budget and to give them an opportunity to contribute to the 2024/2025 National Budget. The event held in Mahalapye today was officiated by the Minister of Finance Honourable Peggy O. Serame.
Officially opening the event, Hon. Serame urged the youth to embrace mindset change, saying no one succeeds without a decent character to sustain the success. She observed the importance of an inclusive budget and encouraged the youth to provide their budget comments on the readily available Ministry of Finance communication platforms.
Director, Micro Economic Policy Mr Matekane informed the youth that the strategy shows expectation of budget and the implementation plan of the and its use. He said, Botswana's economy seems to be growing steadily.
Mr Matekane further explained that Botswana will continue to accelerate the agenda to reach high-income status by supporting measures and initiatives towards export-led economy and by promoting and exploring value chain development opportunities in different sectors.
Mr Matekane clarified that the national priorities and strategies include attracting inward FDI and supporting the private sector through business environment reform and value chain development.
He elaborated that innovation and digital transformation is a continuous process as the government accelerates the implementation of the digital transformation strategy for Botswana (SmartBots) through a whole-of-government approach. Moreover he said the government will continue to enhance access to financial services for both businesses and households through diverse range of financial products and services that promote economic growth.
Mr Matekane explained that in alignment with Sustainable Development Goal 9, infrastructure development and spatial planning is seen as a government priority with the aim for economic growth. He elucidated that export trading, agriculture and tourism among others are to be utilized for asset increase on top of expected budget 2024/2025 allotted budget