News
𝐏𝐑𝐄𝐒𝐈𝐃𝐄𝐍𝐓 𝐌𝐀𝐒𝐈𝐒𝐈 𝐓𝐎 𝐑𝐄𝐂𝐄𝐈𝐕𝐄 𝐁𝐑𝐄𝐄𝐃𝐈𝐍𝐆 𝐂𝐀𝐓𝐓𝐋𝐄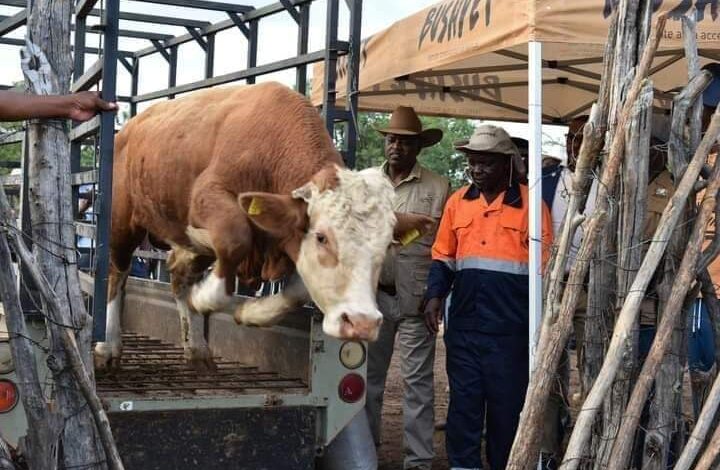 𝐏𝐑𝐄𝐒𝐈𝐃𝐄𝐍𝐓 𝐌𝐀𝐒𝐈𝐒𝐈 𝐓𝐎 𝐑𝐄𝐂𝐄𝐈𝐕𝐄 𝐁𝐑𝐄𝐄𝐃𝐈𝐍𝐆 𝐂𝐀𝐓𝐓𝐋𝐄
Government is committed to developing a sustainable, technology driven and commercially viable agricultural sector. Its Investment in the agricultural sector is significant and longstanding through robust policies and programmes aimed at improving output.
While in Texas, USA in March this year, His Excellency President Dr. Mokgweetsi Masisi promised that government will procure semen to improve cattle genetics, increase cattle herds, improve productivity and develop effective value chains to better the lives of Batswana.
Delivering on the promise President Masisi will tomorrow 24th May 2023 receive 162 breeding cattle of different breeds bought from the United States of America.
The cattle consist of 141 bulls and 21 heifers of elite animal genetic which will be used in the production of germplasm in the form of embryos and semen for the domestic and export market.