News
2023 NATIONAL ARTS FESTIVAL CALL TO REGISTER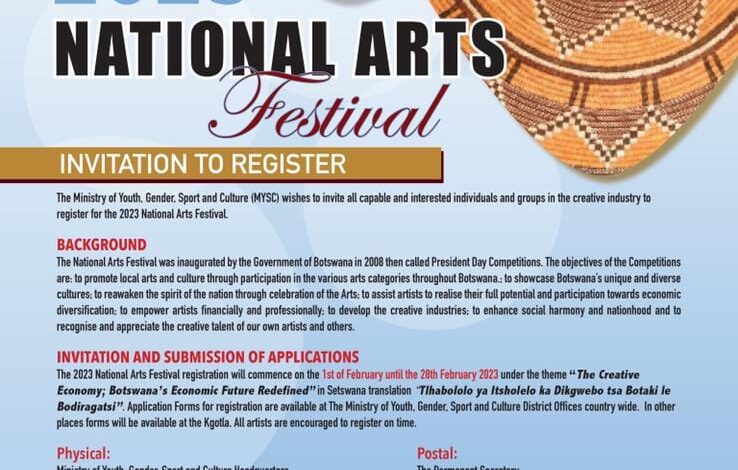 Youth, Gender Sport and Culture (MYSC) wishes to invite al capable and interested individuals and groups in the creative industry to
register for the 2023 National arts Festival
BACKGROUND
The National Arts Festival wa inaugurated by the Government of Botswana in 2008 then called President Day Competitions. The objectives of the Competitions
ae: to promote local arts and culture through participation in the various arts calegeries throughout otswana to showcase Botswana's unique an verse
cures; to reawaken the sit of the nation through celebration of the Arts to assist arts to realize ther ull potential and participation towards economic
iversiication: to empower artists financially and professionally: to develop the creative industries: to enhance social harmony and nationhood and to
recognize and appreciate the creative talent of our own artist and others
INVITATION AND SUBMISSION OF APPLICATIONS
The 2023 National Arts Festival registration will commence on the 1st of February until the 2h February 2029 under the theme "The Creative
Economy; Botswana's Economic Future Redefined" in etswana treslaion 'Tihabololo ya Itsholelo ka Dikgwebo tsa Botaki le
Bodiragatsi". Application Forms fr registration are available at The Minot of Youth, Gender Spot and Culture District Ofices countywide. In ther
places forms will be available at the Kyo. lars are encouraged to register on ime.
Physical: Postal:
instr f Youth, Gender, Sport and Culture Headquarters The Permanent Secretary
eK Building Ministry of Youth Gender Sport and Culture
Located at Plt 54372 behind High Court Private Bag 0514
Cerra Business District Gaborone, Batswana
Tek 2673901186
(Rat any MYSCOfce near you addressed othe District Coordinator
LATE SUBMISSIONS WILL NOT BE ACCEPTED.
FOR FURTHER CLARITY PLEASE CONTACT: MS. MASEGO MOTSWIRI @ 368 2775 08 MR. DINPHO TUMISANG AT @ 368 2792,
(MINISTRY OF YOUTH, GENDER, SPORT AND CULTURE HEADQUARTERS,