News
𝗠𝗥𝗦 𝗠𝗔𝗦𝗜𝗦𝗜, 𝗠𝗥𝗦 𝗕𝗘𝗥𝗦𝗘𝗧 𝗜𝗡𝗧𝗘𝗥𝗔𝗖𝗧 𝗪𝗜𝗧𝗛 𝗙𝗘𝗠𝗔𝗟𝗘 𝗔𝗥𝗧𝗜𝗦𝗧𝗦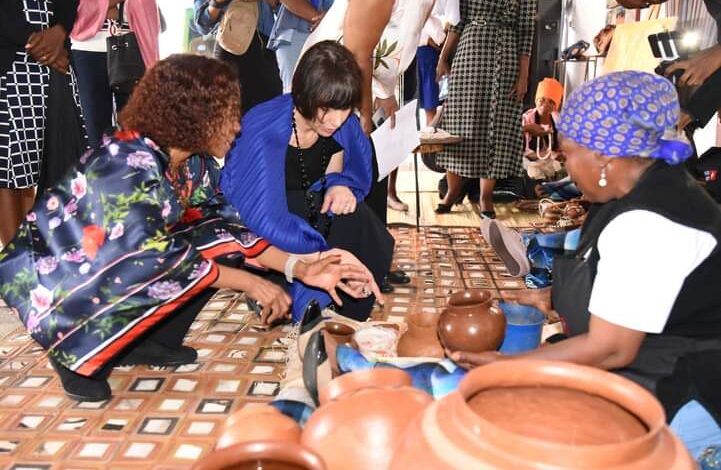 Women artists haven been implored to collaborate and network to help each other to establish and grow markets for their artistic work. This was revealed by the First Lady of Botswana, Her Excellency Mrs. Neo Masisi when she invited her counterpart, the Spouse of the President of the Swiss Confederation Mrs. Muriel Zeender Berset to the Thapong Visual Arts Centre for an engagement with Women Artists this morning.
Fist Lady Masisi also called on the Artists to engage with the Ministry of Education and Schools officials with a view of influencing the education curriculum. She said this would help motivate and raise enthusiasm among upcoming artists and art students. Mrs. Masisi thanked the Thapong Centre management for housing the Women and asked them to think about expansion so as to accommodate more artist.
Mrs. Muriel appreciated Mrs. Masisi's invitation citing that women need to come together to support each other as they face the same challenges, be it nationally or globally. She applauded the artists for the creativity she noticed in their work. She implored them to take their work to the people by way of exhibition.
This engagement was organised as an opportunity for the women artists to showcase their work and also interact with First Lady Masisi and her visitor Mrs. Berset who is also an artist.