News
Botswana Demands National Geographic Share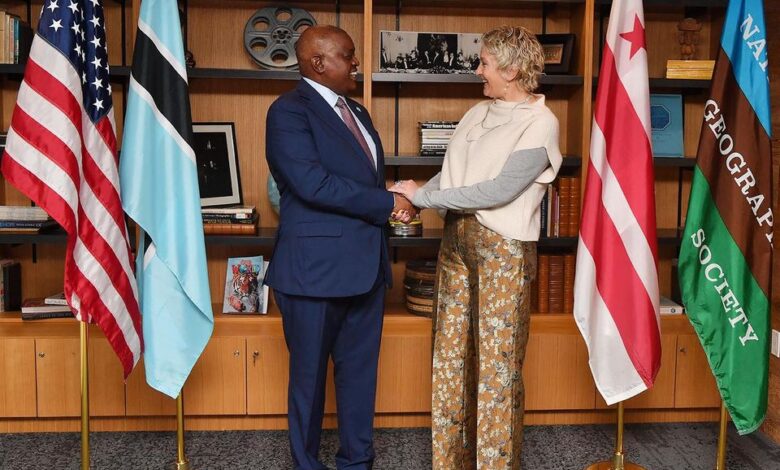 President Dr Mokgweetsi Masisi has told National Geographic in no uncertain terms that Botswana wants a share of profits made on any information about its tourism.
"We want National Geographic Botswana," he said in a meeting with the organisation's board on Friday.
Stating that Botswana would no longer be a bystander in the creation of tourism documentaries and other related information packages about the country, Dr Masisi said it was only fair that Batswana, as owners of the tourism resources, enjoyed the profits National Geographic made out of Botswana.
President Masisi said he no longer wanted Botswana to be portrayed in a bad light internationally through films of malnourished children while tourists basked in glory of their tourism wealth.
"We want responsible investment because this portrays Botswana in a bad light when the reality is the reverse," he stated.
The President said Botswana's abundant and attractive tourism resources were a direct result of government's good conservation efforts.
"I cannot think of any country on the continent that sticks to values of conservation and environmental stewardship. I do not know any country in the world that has reserved close to 40 per cent of its landmass to conservation. These are important attributes that point to us," President Masisi said.
He assured the organisation's board that Botswana was committed to conservation and environmental stewardship that stemmed from political will.
"Just to assure you, we will always protect the (Okavango)delta. Regardless of what party comes to power, the delta is a national treasure. It has also informed our foreign policy and we have developed strong relations with Angola and Namibia for the delta and about the delta," he said.
Dr Masisi called for closer association and collaboration with local research and development institutions such as University of Botswana and Okavango Research Institute.
He also called on National Geographic to partner with Okavango Diamond Company for with local on future films adding that a lot could be achieved by using Batswana.
"You have a reputation and you are a brand, Botswana is also a brand. These two brands, Botswana and National Geographic need to marry for posterity and for provenance as we take our story forward," he said.
For her part, National Geographic chief executive officer, Ms Jill Tiefenthaler said the organisation was committed to working with Batswana to build capacity in storytelling and education.
"We want to contribute to knowledge and we are thrilled to work side-by-side with Batswana and tell impact stories. We have always wished to come together in sync," she said.
Ms Tiefenthaler said the organisation had already contributed by sponsoring Batswana in tourism business undertakings, community development and skills transfer.
She promised that the organisation would look into localising National Geographic through collaboration with government and local institutions.
National Geographic was looking forward to collaborations with local research institutions on the delta's preservation, said Ms Tiefenthaler.
The meeting also provided an opportunity for both parties to discuss President Masisi's conservation priorities as well as identification of other opportunities for further collaboration.
In 2016, National Geographic began surveying and collecting scientific data on the Okavango River system in order to secure permanent and sustainable protection for it.
The organisation had in 2011 established a five-year partnership to considerably expand and accelerate efforts to protect the water source.