Music
Lizibo Enthralls IWG Closing Ceremony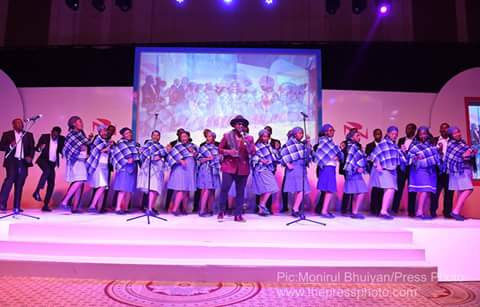 Lizibo Enthralls IWG Closing Ceremony. Local youthful musician Lizibo dressed in jeans, black shoes with a gold pointer, maroon designer jacket and a hat left attendees at IWG Conference closing ceremony asking for encores.
Lizibo as commonly known serenaded audiences to tunes from his album Malebeswa. The GICC hall could be heard echoing to chants made by the conference participants as Lizibo sang. On stage, Lizibo was joined by Botswana's choral giants KTM Choir for a presentation of a song dubbed "Mosadi", the song delivered by the two music heavyweights speaks about some of the miseries a woman can lead you into if she is not yours.
KTM Choir ladies dressed in absolute Tswana left the audience a lot more enthralled with their synchronized dance patterns. Lizibo ended his music presentation with a gratitude message to all the women in attendance. Lizibo went to take it social media that he working on a new album which will feature KTM Choir.