News
Minister Molale calls for equal opportunities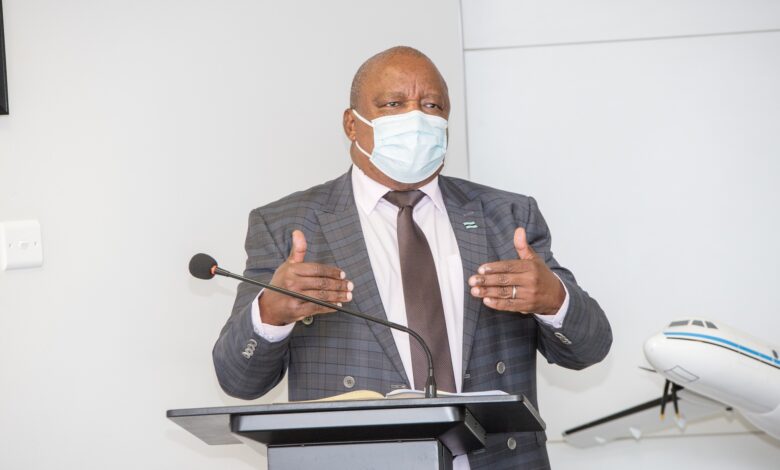 The Minister of Transport and Public Works, Honourable Eric Mothibi Molale has implored the Civil Aviation Authority of Botswana (CAAB) to ensure that there are equal opportunities for Batswana in the aviation space.
Minister Molale said this yesterday during the familiarization tour of the CAAB facilities at the Sir Seretse Khama International Airport (SSKIA) recently.
"Your planning should be aligned to my vision or the three outcomes I expect from you namely quality life for citizens; safety and security and equal opportunities." he said.
The Honourable Minister acknowledged CAAB's need to unbundle the regulator and the service provision. He also pledged the Ministry's full support towards efforts for certifying the Airports.
The CAAB Board Chairperson Mr Basimane Bogopa provided an overview of the organisation, its issues and goals. He highlighted two critical ongoing projects, namely the Certification of SSKIA and repairs of the radar system in Letlhakane.
Mr Bagopa explained the significance of the projects adding that certifying the airport would facilitate a long-term goal of turning SSKIA into a regional competitive cargo hub. Whilst the radar system is imperative to Aviation safety and monitoring.
For his part, CAAB Chief Executive Officer Dr Bao Mosinyi highlighted key operational developments and reiterated the need for certification, the recent ICAO Coordinated Validation Mission (ICVM) Audit and the progress of the implementation of drone regulations.
The delegation was later hosted by the Sir Seretse Khama International Airport Special Economic Zone area (SSKIA SEZA) on a brief tour of facility. The project which is currently at defects liability stage was done by a citizen owned company. The project is expected to create jobs especially for the youth.
The Honourable Minister was accompanied by Permanent Secretary Mr Kgomotso Abi, Deputy Permanent Secretary-Transport Mr Isaac Moepeng and Deputy Permanent Secretary Ms Baleseng Hikwama.