News
President Festus G. Mogae inaugurated as Chancellor of University in Nairobi Kenya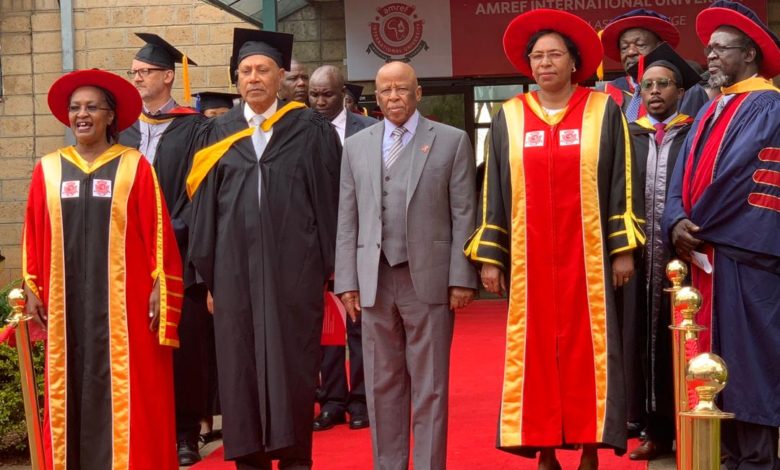 MOGAE CHANCELLOR OF AMREF UNIVERSITY
Former President Festus G. Mogae was this morning inaugurated as the First Chancellor of Amref International University in Nairobi Kenya.
Mogae who will be Chancellor for 5 year tenure expressed delight for his appointment as first chancellor of the University. He said he considers this as an opportunity to broaden his scope from HIV to the entire health system.
He congratulated Amref Health Africa for the visionary idea of developing an institution that will transform health sciences on the continent of Africa. "Training health professionals will contribute towards attaining Universal Health Coverage and achieving lasting health change for Africa by Africans. " he added
About Amref International University
Amref International University (AMIU) is an institution of higher learning focused on training in health sciences and is fully owned by Amref Health Africa. AMIU is founded on the intellect of Amref Health Africa, which has over 60 years' experience providing quality public health interventions, training and education. AMIU has nurtured leaders and shaped the future of public health practice in Africa for over 40 years under its predecessor Amref International Training Centre (AITC). We lead the way in health sciences education with a breadth of programmes. We focus primarily on health sciences courses with a commitment to progressively develop innovative programmes catering to the present and future needs of African populations. AMIU currently has an Institute of Research, Innovation and Consultancy and one School of Health Sciences with five departments: • Community Health Practice • Health Systems Management and Development • Nursing • Laboratory Sciences • Health Professions Education.