News
The public is informed of Covid–19 Regulations to be adhered to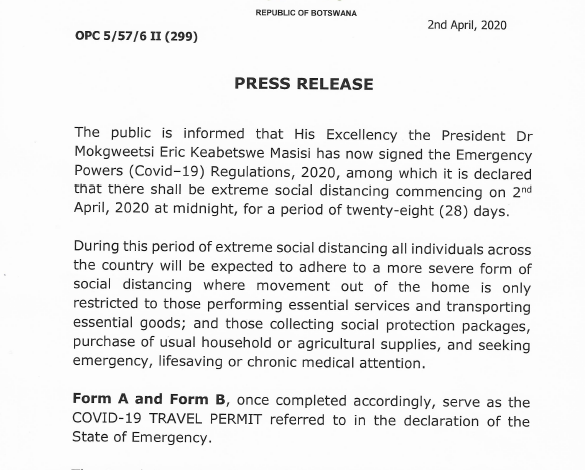 PRESS RELEASE ON COVID19 REGULATIONS
The public is informed that His Excellency the President Dr Mokgweetsi Eric Keabetswe Masisi has now signed the Emergency Powers (Covid–19) Regulations, 2020, among which it is declared that there shall be extreme social distancing commencing on 2nd April, 2020 at midnight, for a period of twenty-eight (28) days.
During this period of extreme social distancing all individuals across the country will be expected to adhere to a more severe form of social distancing where movement out of the home is only restricted to those performing essential services and transporting essential goods; and those collecting social protection packages, purchase of usual household or agricultural supplies, and seeking emergency, lifesaving or chronic medical attention.
Form A and Form B, once completed accordingly, serve as the COVID-19 TRAVEL PERMIT referred to in the declaration of the State of Emergency.
The Regulations, together with Form A and Form B, are being published to facilitate public requests for permission to make exceptional movement by individuals, and a confirmation of employment in essential services.
In order to understand the Form A and Form B, the public is urged to first read and understand the provisions of the attached Regulations.
Form A, relates to a declaration by an individual to make an exceptional movement during the State of Emergency. Form A is completed by individuals wishing to make such exceptional movements, and is filled by the individual each time such an exceptional movement has to be made.
Form B serves as confirmation of employment in essential services, where, with signature and a stamp, the employer confirms that the person travelling is an essential service provider.
The forms are available online [[Download Form A and Form B here https://drive.google.com/…/18CXwf6zcsuuR-AencG1yg-NpT…/view…], as well as at the Offices of the District Commissioners, Deputy District Commissioners and at the Kgotla across the country.
For further information, please call the Toll free number 0800600111.
[Signed]
Andrew O. Sesinyi
PERMANENT SECRETARY
GOVERNMENT COMMUNICATIONS