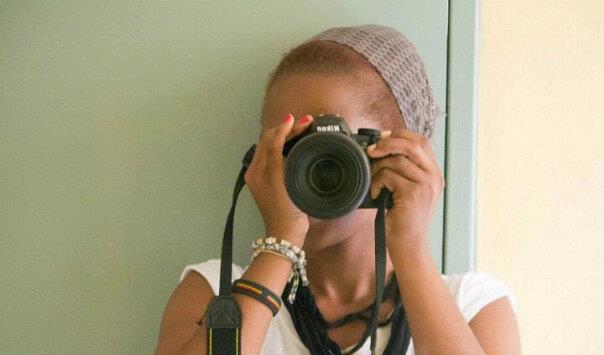 Tell us about yourself?
Well I am a 23 year old ambitious lady with a degree in fashion design, and I have a passion for the environment and ethics in general!
I believe in the golden rule and believe if we all love each other selflessly the world would be a much better place. I own an Eco fashion Brand called Seatbelts and Openspaces and I'm also training with a local radio station to become a radio presenter. I have just been sponsored to launch a project called IheartBotswana by the British council global Changemakers.
What is IheartBotswana?
It is a project meant to encourage 200 young people to become Changemakers in Botswana by taking initiative in being the change they want to see. This project aims at collecting 200 pledges from the youth where they will be expected to use their passions to make a significant difference in social issues they are passionate about.
The 50 companies will be expected to provide resources to help the pledges' achieve their pledges.
What inspired this project?
Well having met a few amazing people in Belgium at the EAYS 2012, I realized a great amount of the youth in Botswana were passive about their role in being the change makers.
Being the only selected participant from Botswana since 2008 and having such a poor network with other Global changemakers became highly apparent that it just felt right to start something where as a youth we could be part of the change with enthusiasm and innovation.
I was inspired by meeting young people especially who beyond their circumstances were willing to work hard to make a significant difference in their communities. I realized that I was part of the youth where a lot of us claim to love our country but weren't willing to show how. It became evident as well that I was part of the problem by complaining and making excuses rather than being part of the solution. I wanted to create a platform where I would be part of the solution and grab those young people who are interested to work with me.
What are some of the challenges you faced trying to set up your project as a young person?
Personally I suck at being organized. And that was the first problem. Meeting deadlines and being an efficient leader to my team (mostly students with limited resources). I made lots of mistakes like delaying lots of things because of my internship and training for the radio presenter spot.
But the biggest challenge was making this project attract young crowd without boring them. Getting the youth participate and making companies interested in sponsoring us.
I believe the greatest challenge will be keeping the momentum going such that all pledges can be achieved by the end of a year and that the resources we have will be distributed well to keep the pledges committed.
And what do you want to achieve with this project?
Love is a doing word…
I simply want the youth in Botswana to change their mindsets and realize that we each have the potential to make a significant difference in our communities with whatever resources we may have by being actively involved in our communities. I would like to inspire a whole generation to show how a little goes a long way.
What does it mean to be young African woman in 21st century?
Being an African, educated and ambitious young woman in Africa is mind blowing and daring at the same time. The possibilities are endless. I believe we are unstoppable in all ways possible. I love referring to our state of being as unrestricted. We are our only limitation and we hold the key to making lots happen! We are liberated but also have lots of work to do to make up for the many misfortunes Africa had to go through in the past. We still have the responsibility of preserving our diversely beautiful culture regardless of our educational liberation.
I strongly believe we are still highly dependent on the great powers and need to work on what is rightfully ours and we need to be vocal about the need for our full on independence in the most impersonal, civil and liberal manner.
So let's talk about the Global change maker platform, how did you use it to get your ideas ahead?
Soon as you say British council people listen, *hahaha*. Seriously the fact that this is an internationally accredited organization/initiative has opened ears for me. The British council in Botswana has recently offered that I intern within their projects department.
Soon as I was selected I quit my full time job at Woolworths and started pursuing my passion. I have not looked back since, the networking have a well-connected database such that this interview was possible. I have people offering me information and have been called to be a speaker at certain events in Botswana as well as interviews on radio and newspapers, which helped push my mandates.
I have a rich pool of contacts/information and my relationship with British council has landed me an offer to intern with them as off May.
I include it in any letter and mention it wherever possible.
What is the most current biggest leadership issue in Africa?
Our biggest downfall I believe is the intent of leaders in Africa and their general lack of servitude towards their people. Once leaders are in power it seems they place their selfish ambitious before those of their people compromising their people.
Who is an African leader that you admire?
Nelson Mandela remains my all time favorite because of his assertiveness. I find it admirable how regardless of the persecution he endured through it all and in turn persevered. He seems to have not allowed his tribulations corrupt the love he had for his country and remained true to his people. Kofi Annan is also my hero for the simple fact that he holds a position I would love to one day secure as mine.
What is your biggest achievement?
I believe landing my grant with Global Change makers and launching IheartBotswana is my biggest achievement yet. This is my brainchild and it is something I have put my whole heart in! It has received appreciation from all corners of the world and the fact that I have gotten people and sponsors excited about it gives me butterflies all the time. It doesn't get old.
What's the best career advice you have ever received?
I was once told that we often miss opportunities because they are disguised by hard work. I have since learned that nothing worth having comes easy. It gets really hard sometimes.
Any projects you're involved with apart from IheartBotswana? If so tell us about it?
I have my brand Seatbelts and Openspaces which is an Eco-fashion brand. We make garments and accessories from recycled/rehashed and ethically made material.
What's a day in your life like?
Whoa…Everyday is different but insane. I am an intern at a 9-5 with regards to fashion (though for the past month I have been trying to transfer to British council) and am training with the radio station Yarona fm between the graveyard hours 11pm-6am so I get slotted 2hours per session maybe 1-3 times a week. IheartBotswana is tackled in between these jobs mostly after hours/weekends and lunch hours.
What is your wish for Africa?
My hope is that Africa could be fully independent from the great powers of the world, leave us fully independent. Also that we have leaders that are truly committed to battling the social issues we face and make it their business to drive us to full on civilization, and most of all that we learn how to manage our resources well for the development of our people and continent.
What is your advice for the youth?
We owe it to ourselves to be fully responsible for our future. We should all be the change we want to see, and pursue good morals to preserve humanity. We can be that generation that made a significant difference but only as a collective can we make the necessary change and most of all we should not let our circumstances limit us in any way by making excuses.
It's a simple case of getting the right attitude.