The pageant organizers have fulfilled their promise of awarding the contestants the said prizes. Sponsors, Top 16 contestants and the media gathered at Grand Palm to witness the handing over of prizes to the Miss Botswana 2015 contestants.This followed the promise made on July 24 when sponsors made pledges of their sponsorship.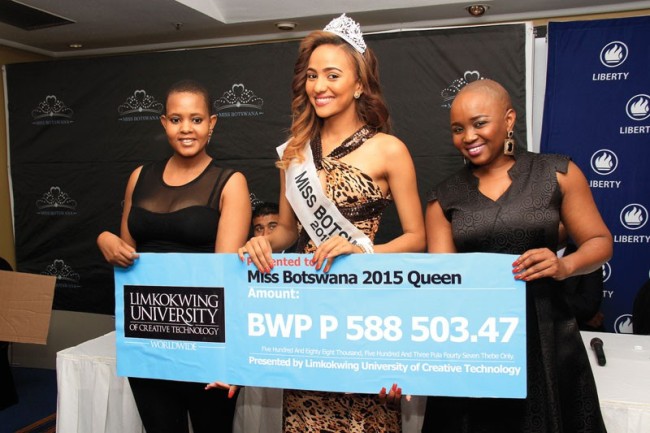 Liberty life Botswana's Managing Director, Lulu Rasebotsa handed over the life covers to the Queen, 1st and 2nd princesses. In addition Liberty Life handed 16 selfie sticks to the Top 16 Miss Botswana finalists.Liberty life has also handed over high end gym gear to the finalists as part of their sponsorship.
For their part Limkokwing University of Creative Technology handed cheques indicating their sponsorship value.
The fully sponsored full degree scholarships for Miss Botswana 2015 which entails Seneo Mabengano completing her studies in Limkokwing University of Creative Technology – Malaysia Campus and a month's Global Classroom Experience in Limkokwing London – This prize includes full Tuition Fees, Return Flight Ticket to and from Malaysia (Excluding Accommodation and & Living Allowances) valued at P 588 503.47
Full Tuition ONLY Degree Scholarships for the (1st Princess) and the (2nd Princess ) to complete their studies at Limkokwing University of Creative Technology – Botswana Campus worth P151 980.00.
Apex Properties will accommodate the Queen for a period of 12 months of her reign.
Sun International has offered the Queen and the first princess holiday packages at their Sun City Vacation homes.
The Queen gets a weekend holiday for 6 and the 1st princess gets midweek stay for 6.
Botswana Council of Women legal representative, Kgosi Ngakaagae, handed over P100,000 for the Queen, P50,000 for the 1st princess and 25,000 for the 2nd princess.
To wrap it up, the Ministry of Youth, Sports and Culture representative, Thobo Tlhasana, thanked the sponsors and organizers of the pageant for a job well done. He also pledged the Ministry's commitment to the pageant.
Comments
comments