News
Celebrations Of 56th Anniversary Of Botswana's Independence And 28 Years Of Diplomatic Relations With South Africa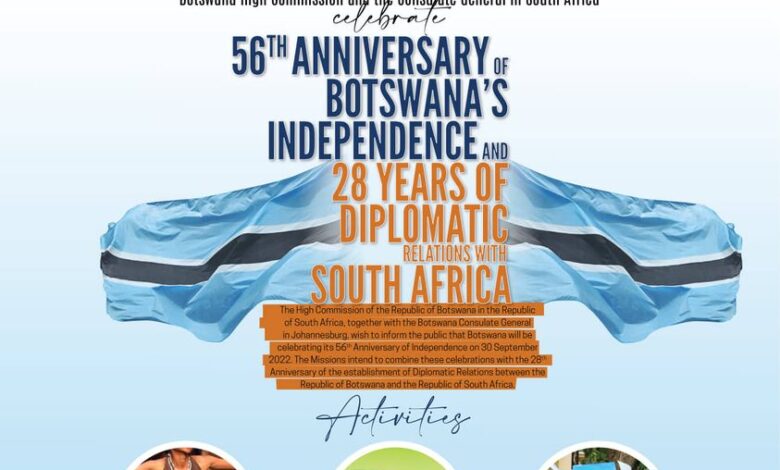 The High Commission of the Republic of Botswana in the Republic of South Africa, together with the Botswana Consulate General in Johannesburg, wish to inform the public that Botswana will be celebrating its 56th Anniversary of Independence on 30
September 2022. The Missions intend to combine these celebrations with the 28th Anniversary of the establishment of Diplomatic Relations between the Republic of Botswana and the
Republic of South Africa. Activities for the latter took place in Botswana during the months of July/August. In this regard, and as a continuation to the Botswana celebrations, the two Missions will host a number of events to mark these milestones. These include the following:
 A Fashion Show: the Botswana to South Africa Fashion Trade Brunch to take place on 17 September 2022 at the @Sandton Hotel in Johannesburg from 1100hrs to 1400hrs and will showcase ready-to-wear collections for the South African Fashion industry, created by Botswana Designers. The main objective is to support the expansion of Botswana based Small, Micro and Medium
Enterprises (SMME's), as well as to assist develop their export capacities.
 Botswana Golf Day: scheduled to take place on 27 September 2022 at the Silver Lakes Golf and Wildlife Estate in Pretoria. A number of Players and business personalities from both countries (Botswana and South Africa) will network over the game of golf. A platform for the development of lifelong business and personal relations will be provided.
 Botswana Independence Celebration and Open Day: These will take place on 30 September 2022 at the Botswana High Commission in Pretoria. It is expected that a Cabinet Member of the Government of South Africa, will be a Guest of Honour during the Official National Day/Independence Reception, which
will take place from 1230hrs to 1430 hrs. Attendance here is by invitation. This official function will be followed by an Open Day, which will, showcase Botswana products and will be open to Members of the public.