Please tell us about yourself.
My name is Gogontlejang 'GG' Phaladi. I am 18 years old. I am the last born in a family of only 2 girls, I come from Mahalapye and Maunatlala but I have lived in Gaborone all my life. I am an aunt to the loveliest little girl in the world. I am the Founder and Executive Director of the Gogontlejang Phaladi Pillar of Hope Project which I established in the year 2000 when I was 5 years old. It has been running successfully for the past 13 years, primarily and fully supported by my parents. I am a Philanthropist, Motivational Speaker, Human Rights, Child and Gender Activist and Advocate, Patron, Writer, Poet, UN Campaign Facilitator and a Youth Ambassador. In addition, I am students at the University of Botswana studying Political Science. I am also an upcoming farmer.
I am highly sociable yet I can be hold back as I am an introvert. I value freedom of expression and humour as these lay the foundations of who I am today from family level. I love reading stories based on true story, watching current affairs debates, comedy movies, listening to music. I love football and tennis and I used to play both sports with a gold and silver medal attained in each respectively. I love spending time at the farm, bushes (wilderness). I especially love being surrounded by children and the elderly. Hence during the schools holidays, I usually foster 10-30 children from diverse background on a sort of boot camp. I am very modest, selfless and compassion was instilled in me from a very tender age. I believe one must not premeditate doing an act of charity and that is how it becomes genuine and profound.
Which organisations are you part of and what role do you play in each of them?
Founder and Executive Director of the Gogontlejang Phaladi Pillar of  Hope Project (GPPHP)
Youngest member of the Protect The Goal- Botswana National Taskforce (UNFPA)
Contributing content to the Genderlinks (Southern Africa) online newsletter
AfriYAN- Botswana member
Patron of the Botswana Youth Water Action Team (BYWAT)
Duma FM- Radio Presenter trainee
Botswana UNESCO Youth Advisory Forum Committee member


You're only 18 but you're already doing great things and have achieved quite a number of things. What drives you?
My faith in God. Purpose. Need. Will. I nearly lost my mom not once but twice and on the second incident we were told that she is dead. Philanthropic work is my way of showing my gratitude to God for preserving my mom's life past our adversities. Also for all that I have in my life which are priviledges.
The great Mahatma Gandhi said that you should be the change you want to see, the Legend Michael Jackson said "I am starting with the main in the mirror". If such words cannot propel you as an individual to get up and get some work done, then chances are that you never will. I believe that I have to uphold my social responsibility as a responsible citizen, that of contributing positively towards the Development of my country no matter how little or insignificant the contribution may be. If we all did this, collectively we would achieve massive impact. We need to be a Nation that takes initiatives as opposed to waiting for someone to come up with an initiative and jump on. As one American President said, "Ask not what your Country can do for you but what you can do for your country."
We need live purpose driven lives and allow ourselves to be stung by the bee of WILL POWER. The willingness to do something, to start and initiative, to be the change we want to see, to come up with solution to our problems, to replace complaints with positive changes, willingness to get up a close the gap, apply yourself and apply a services in most cases without expecting anything in return.
MY MOTTO: ALWAYS TURN CHALLENGES INTO OPPORTUNITIES AND PAIN INTO POWER
GOD is my Sanctuary, JESUS is my Saviour and the BIBLE is my Constitution.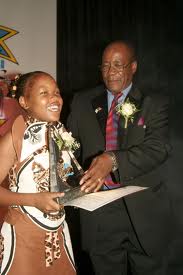 Can you tell us about some of your achievements?
Maybe at the beginning of this interview I should have pointed out that I am the worst person to tell you about MY achievements as I am terrible at blowing my own horn.
AWARDS:
2005– Candle Light Award
2006– Vision 2016 National Award for Pillar: A Compassionate, Just and Caring Nation
2007– National Youth Awards: Leadership and Community Development
2007– National Youth Awards: Minister's Special Award
2007– Vision 2016 National Award for Pillar: A Compassionate, Just and Caring Nation
2008– Vision 2016 National Award for Pillar: A United and Proud Nation (Being the first Motswana to be awarded a Vision 2016 National Award under this Pillar)
2008– Runner up for the Five Roses Youth of the Year Award
PIONEERING:
I am the youngest citizen to have established and registered a Charitable Organization (At 5 years old), despite many people being of the view that it was unrealistic for a 'mere child' to do such exceptional things and concluded that I probably have a mental disorder.
Being the youngest Advocate and Activist in Botswana.
I am the youngest citizen to go on a tour around the Country Addressing KGOTLA meetings. This I did despite a lot of resistance because of my AGE and GENDER. A KGOTLA is a Cultural meeting place dominated by men in an exclusively masculine society. Culturally, it is uncommon for Women to lead the Kgotla. It is also very rare for children to address KGOTLA gatherings.
I was the voice of and represented the GIRL CHILD during the 17th International Congress on Women's Health Issues (ICOWHI) held in Botswana for the first time in 2008. My motivating speech was published in the American Health Journal.
I met the President of Botswana, H.E Festus G. Mogae in 2007 when I was twelve (12) years old and had a discussion concerning issues affecting young people in Botswana.
The youngest to dominate the National Youth Awards when I was 12 years old.
I was the first Motswana to be Awarded the National Vision 2016 Award for Pillar- A UNITED AND PROUD NATION.
Through my organization, GPPHP, I launched a community policing initiative of 'Fighting Crime in the Wilderness (farms, settlements, cattleposts)' last year (2012).
I was the Youngest Speaker representing Young Women at the National and Regional Southern African Development Committee (SADC) Gender Protocol Summit.
 I was the only child facilitator during the week-long Kgalagadi Youth Forum organized by UNDP, UNFPA Ministry of Education among other stakeholder. This was a capacity building Forum also aimed at teaching young people about the Millennium Development Goals.
When I was 12 years old, I was the youngest speaker during the World AIDS Day Commemoration held the Botswana National Stadium.
I have on many occasions been invited to be the Guest Speaker. This gesture has paved way for many young people and young women to be entrusted with such honours, respects and responsibilities.
Pioneering being a child panelist at high level discussions/ consultations.
Influencing positive change in my country, decision making inclusive of policies and laws.
When I was 17 years old, I was the youngest Radio Presenter in Botswana and one of the very few females presenting a Political/ Current Affairs live call-in radio show.
Being the youngest stakeholder in the Protect The Goal (PTG) Global Campaign National Taskforce- Botswana. This is apparently the PTG only taskforce in the World with a young person representing the youth.
Are there any challenges that you have faced in your journey and how did you deal with them?
My biggest challenges have been my AGE and my GENDER. Many times I have been perceived to be TOO YOUNG and of the WRONG GENDER to do many great things. It is difficult sometimes to make your voice heard and to realize your dreams in an environment where society's views are influenced by religion and culture which have some elements that are biased against women and children.
What are your plans for the next 5 years?
WATCH THE SPACE……SOMETHING BIG ABOUT TO HAPPEN NOT JUST FOR ME, BUT FOR WOMEN AND CHILDREN IN BOTSWANA. AND GLOBALLY.
You're such a huge inspiration and I believe there is a lot young people can learn from you. How can they get in touch with you?
Facebook: Gogontlejang Phaladi
Email: gogontlejangphaladi@hotmail.com
Twitter: @GogontlejangP
Mobile: (+267) 71821204/ 75950693
Postal address: P O BOX 50611, GABORONE, BOTSWANA

What advice do you have for young people in Botswana?
We are leaders of today as we are also part of the present. I envisage a World where young people are not on the periphery of the political system, are not the missing face in decision making and take ownership of the solutions to our problems. Botswana needs more credible youth advocates and activists. For a long time, we have not been trusted with positions of authority due to our lack of credibility and accountability to a certain extent. We need to be Leaders who are credible, responsible, accountable, passionate, committed, dedicated, determined, disciplined and self-less. As young leaders we need to be the change we want to see, walking the talk and practising what we preach. It is important to also consolidate our views and opinions to come up with a strong voice concerning the change we want. We need to advocate to have youth representation in a position of influence and authority inorder to drive forward the development vehicle in our country. We need to stop being the back benchers and the recipients of change, we need to be at the forefront. We need to push, overcome those challenges and barriers. Nobody is born extraordinary but we can all do extra ordinary and amazing things. They say many people "lose out on opportunities because they often come in overalls and look like hard work". Lets us be active agents of change, true catalysts of development.
"United we stand, Divided we fall"